Medtronic Recalls Atherectomy Device After Patient Injuries
Updated to include a statement from Medtronic.
Medtronic has another device recall, on the heels of two other recalls.
The company is recalling the HawkOne Directional Atherectomy System, which consists of a catheter and a cutter driver. The company stopped short of asking for the product to be returned or discarded, however. Instead, Medtronic said the purpose of the recall is to reiterate existing warnings and precautions already included in the device's instructions for use.
The HawkOne device is used during procedures to clear blocked peripheral arteries and improve blood flow. Medtronic initiated the recall due to the risk of the guidewire within the catheter moving downward or prolapsing when force is applied during use, as shown in the diagram below. If this happens, the catheter tip may break off or separate and this could lead to serious adverse events including a tear along the inside wall of an artery (arterial dissection), a rupture or breakage of an artery (arterial rupture), decrease in blood flow to a part of the body because of a blocked artery (ischemia), and/or blood vessel complications that could require surgical repair and additional procedures to capture and remove the detached and/or migrated (embolized) tip.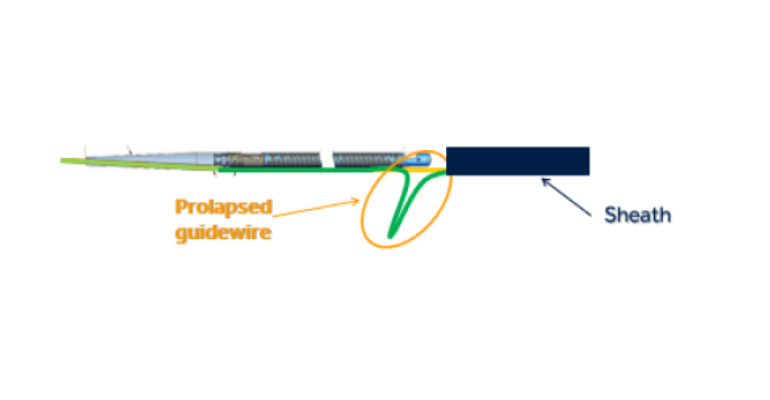 FDA said there have been 163 complaints and 55 injuries reported in relation to this issue. No deaths have been reported.
While the agency only recently flagged this Class I recall, Medtronic sent a notice to customers on Dec. 6, 2021, alerting them to the issue and urging them to review the instructions for use included with the product, noting the warnings and precautions included in the letter.
FDA said there are 95,110 devices in the United States included in this recall, and that they were distributed between Jan. 22, 2018 and Oct. 4, 2021.
"In our letter to customers, Medtronic noted that a small number of customer reports of tip damage (at a rate of 0.168% when compared to quantity of devices distributed) during the use of the 6FR HawkOne devices. While most of these instances were resolved without patient issue, a small number required endovascular retrieval (0.033%) or open surgical retrieval (0.028%)," the company said in a statement.
Article source: Qmed and MD+DI