Why Exhibit
Medtec China
As one stop in the Medtech world's series of events held by Informa Markets that have covered medical manufacturing markets across the globe for more than 40 years, Medtec China is dedicated to serve as a high quality community for medical device R&D and production technology field, and providing innumerable ideas and possibilities for the development of China's local medical device manufacturers and support for multinational medical device manufacturers to set up production and R&D bases in China.
Medtec China 2023 will be held on June 1-3 in Suzhou, and it will gather about 800 exhibitors and over 40,000 visitors from different regions in the world.
2020&2023 Must-Know Data of Medtec China 2020/2023(2021Medtec China was rescheduled to 2023)
Must-Know Data of Medtec China 2020
Must-Know Data of Medtec China 2023
Exhibition Scale
22,500m²
36,000m²
Exhibiting Companies
489 exhibitors from 21 regions and countries of the world
800+ exhibitors from 27 regions and countries of the world
Audience number
36,508 from 7,021 companies
64%of them participate for the first time
40,000+
Conference Programme
18 Theme Conferences contain 82 sessions 76 Guest Speakers
19 Theme Conferences contain 86 sessions 82 Guest Speakers
Conderence number
82
86
Conference delegates
1,700+delegates
1,900+delegates
Why Exhibit Medtec China 2023
– Reach a large proportion of the booming market
It is estimated that by the end of 2021, the medical devices market in China will reach 833.6 billion yuan, with a compound annual growth rate of 18.1%. It is expected to approach $600 billion by 2024, with a compound growth rate of 5.6% between 2017 and 2024. China has become the fourth largest medical device market after the United States, Western Europe and Japan.
18 years dedication in medical device industry, Medtec China has become a resourceful, skilful and professional industry leadership providing unique, insightful and innovative business advices and services to help you seize the best business opportunities in China.
– Communicate face to face with decision makers
Meeting thousands of buyers from medical device manufacturers over 80% of whom are decision makers or purchasing advisors.
– Forge new partnership and business
Network with peers, discuss challenges and opportunities with experts, get first-hand feedback about new products or service from target customers to generate new partnership and business in this new era and new normal
– Advertise brand and new products/technologies
Start building up your industry leadership by becoming keynote speaker at MDiT Forum & Regulation Summit to present products, technologies, and solutions, as well as interaction with peers and buyers to improve customer loyalty.
– Access to market trends
Get insightful information from top experts from government, associations, universities, and medical device manufacturers in terms of Regulation, Quality management, Technology and market trends.
*More information, please get access to
www.medtecchina.com
visitor profile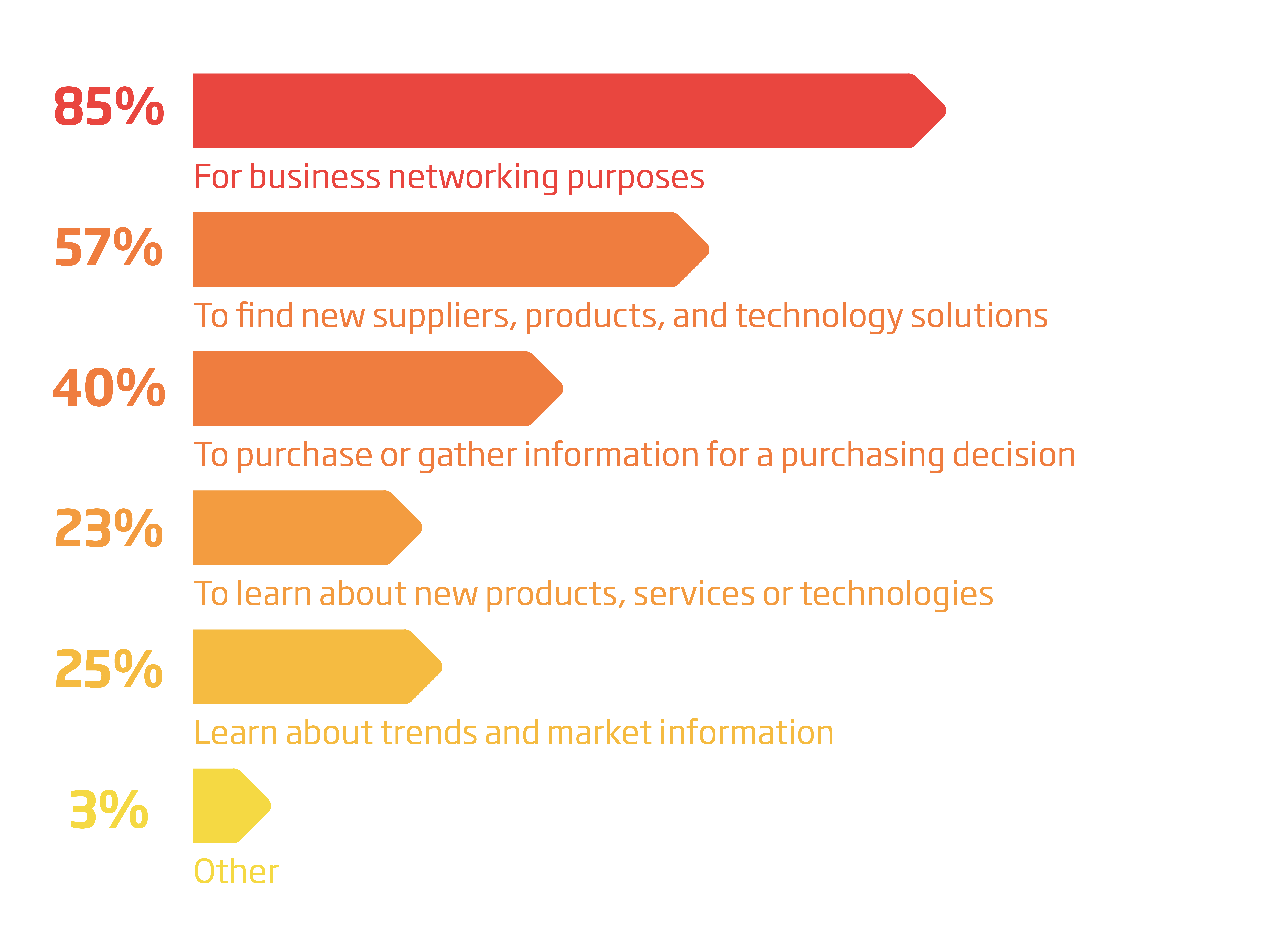 Key Visitors Who Attended in 2020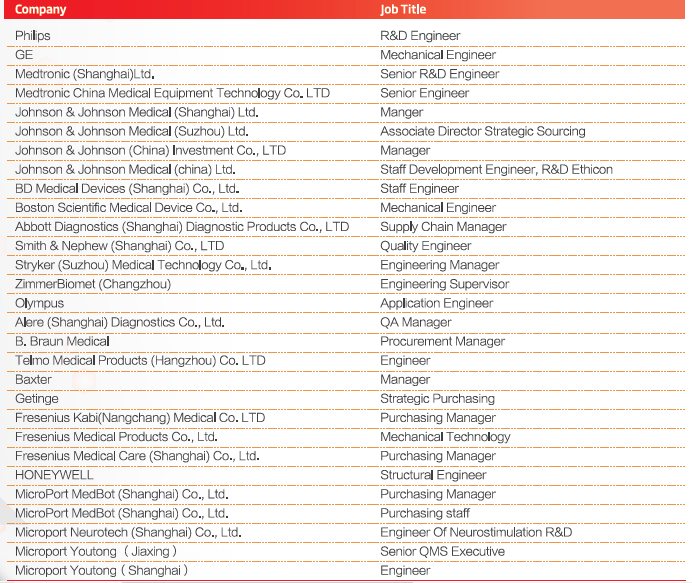 Voice of Exhibitors
Our (Momentive) silicone products account for one of the largest market shares within the North American medical market. We exhibited at Medtec China this year because our company believes the Chinese market to be very promising. Medtec China specializes in showcasing medical design and manufacturing, raw materials, technologies, and processing services – a hub that allows us to most e ectively display our best solutions for our customers. Medtec is a valuable exhibition because it accommodates deep discussion with customers' R&D engineers, product managers, marketers, and salespersons regarding our products and services, customer demands, and how e ectively we can help them. Visitors cover the entire industry chain. Our target customers, such as Mindray, B Braun, intermediary manufacturers, large OEM manufacturers, etc., all sent over engineers to attend Medtec China.
——Vivian Tian,Asia Paci¬c Market Manager,Momentive Performance Materials, Inc. ,
We have been exhibiting at Medtec China since 2016. The OEM Business Division of Kossel is engaged in OEM and ODM as a comprehensive medical design exhibition. Medtec suits our needs by providing many customers and resources. The exhibition has become increasingly large-scale and professional, and the current exhibitors and sta have also witnessed improvement in various aspects. Currently, many doctors and universities are in contact with us. We are grateful to Medtec China for giving us many exciting business opportunities. With superior service quality, Medtec China is an exceptionally professional medical exhibition with which we are proud to participate.
——Zhenkun Nan,Head of OEM Business Division,Kossel Medtech (Suzhou) Co., Ltd.
Shanghai JOININ Medicine Technology Co., Ltd. is a third-party CRO company having just completed its second-time exhibiting at Medtec China. We initially thought that Medtec would not be held this year, but it turned out to be very pleasant and exciting. The debut dual hall is grand in scale and exceded expectation. We were wholly satis-ed as numerous peers and customers arrived to exchange information and ideas. Medtec China is the best place for us to promote our CRO service to targeted customers.
——Sheng Huang,Chairman,Shanghai JOININ Medicine Technology Co., Ltd.
We, a wholly U.S.-funded company, specialize in leak testing and relevant peripheral products. This is our 6th year participating in Medtec China. We are satis¬ed with the exhibition as it helps us to acquire new medical customers and acquaints us with the industry development trends. This year presents all industries with exceptions, but visitors and exhibitors present at the exhibition were passionate and many new friends headed toward our booth. We believe that the pandemic presents new opportu-nities for CTS, especially with the medical industry attaching greater importance to quality control. We will witness longer-term future development as a specialized solution supplier of high-precision products manufactured by medical devices and equipment.
——Jinxin Deng,Sales Director in China,Cincinnati Test Systems Trading (Shanghai) Ltd.
Exhibit Category (Exhibit Category Involvement in Design ande Manufacturing Cycle)
1.R&D and Design Services
2.Computing and Software
3.Materials
4.Adhesives and Adhesive Products
5.Components
6.Eletronic Components
7.Motors and Motion Control
8.Pumps and Valves
9.Filters and IV Products
10.IVD
11.Cleanrooms and Environmental Control
12.Manufacturing Equipment
13.Molding Services and Equipment
14.Contract Manufacturing Services
15.Tubing and Extrusion
16.Surface Treatment
17.Pharmaceutical equipment and services
18.Testing, Metrology, Inspection and Calibration Equipment & Supplies
19.Printing, Labeling, and Bar Coding
20.Packaging and Sterilization
21.Consultants
Post Show Report 2019