About Medtec
About Medtec China
The 17th Medtec China will take place in Hall B1-E1 at Suzhou lnternational Expo Centre, As one of the global MedTechWorld series exhibitions, we have brought nearly a thousand suppliers of medical design and R&D, raw materials, accessories, processing technology and manufacturing services to China's medical device industry since the first exhibition in China in 2005. We also have provided high quality resources support to set up medical equipment manufacturing research platform and promote the optimization of medical device industry chain. Different from other medical exhibitions which focuses on domestic medical equipment products and hospitals and terminal terminal groups, Medtec China's audience comes from medical device manufacturers, including decision makers, purchasing staff, R&D engineers, product engineers and quality inspectors.They can find the parts and components needed for R&D and production, raw materials, design and manufacturing technologies and solutions at the Medtec show.
Exhibit Category
(Exhibit Category Involvement in Design and Manufacturing Cycle)
·R&D and Design Services
·Computing and Software
·Materials
·Adhesives and Adhesive Products
·Components
·Eletronic Components
·Motors and Motion Control
·Pumps and Valves
·Filters and IV Products
·IVD
·Cleanrooms and Environmental Control
·Manufacturing Equipment
·Molding Services and Equipment
·Contract Manufacturing Services
·Tubing and Extrusion
·Surface Treatment
·Pharmaceutical equipment and services
·Testing, Metrology, Inspection and Calibration Equipment & Supplies
·Printing, Labeling, and Bar Coding
·Packaging and Sterilization
·Consultants
2023 Exhibitors (Part)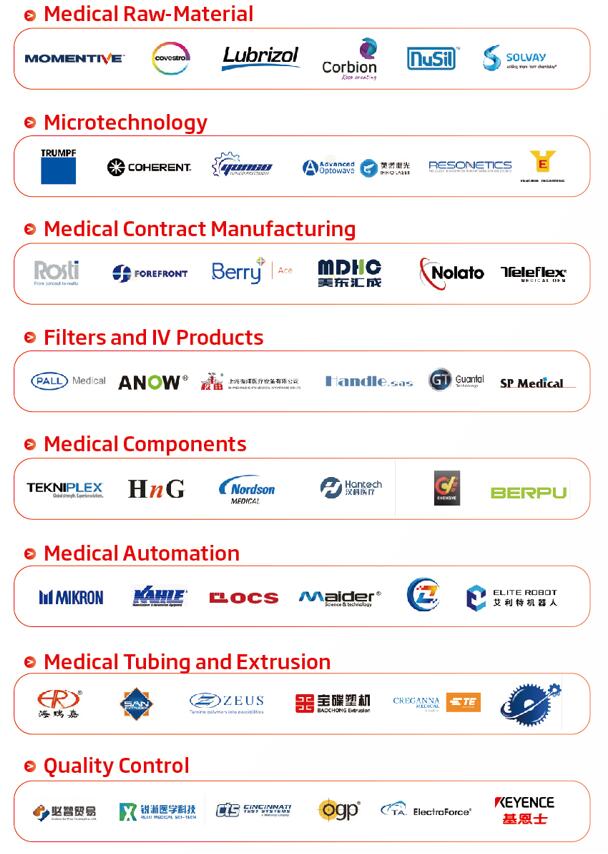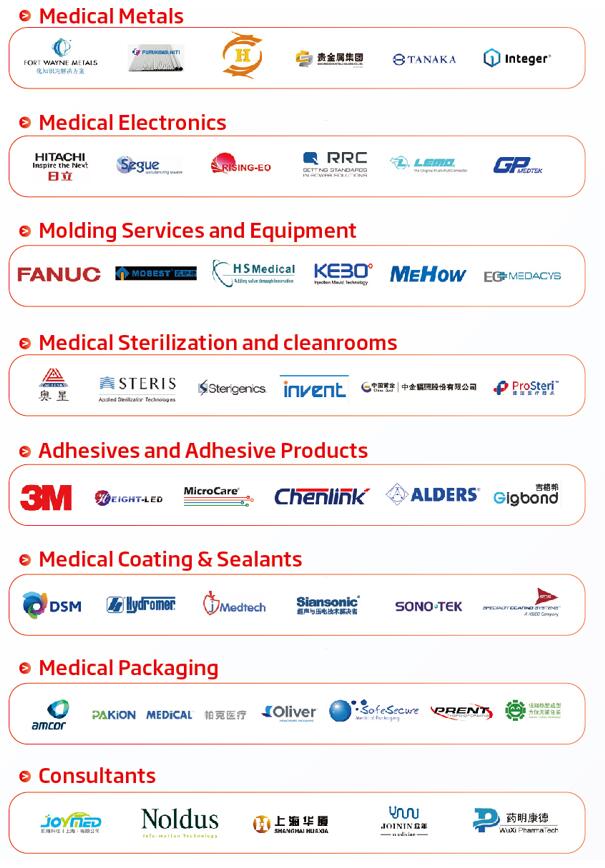 More exbihitor list please check here
Join your peers in Medtec China
●
Meet with over 800 exhibitors from 27 countries and regions
●
Over 40,000 visitors are from Medical Design and Manufacturing Industry
●
90% of visitors are looking for suppliers, new products and opportunity of purchasing at Medtec China
●
80% of attendees participating are purchasing decision markers or possessed advisory / influential roles
Key Visitors Who Attended in 2020 / TOP100 The world's leading medical device manufacturers access to technology and supply resources through Medtec China
● Abbott
● B.Braun
● Bard Medical
● Baxter
● Boston Scientific
● Canon
● Cardinal Health
● Covidien
● GE
● Getinge
● Tuoren Medical
● Johnson & Johnson
● Lepu Medical
● Lifetech Scientific
● Medtronic China R&D Center
● Mindray
● Orbusneich Medical
● Weigao Orthopaedic
● Microport Medical
● Siemens Healthcare
● Smith & Nephew
● Stryker
● Terumo
● Thermo Fisher Scientific
Market Report Track of Medical Device Industry
In order to serve the needs of visitors to capture industry trends, Medtec China always invites consulting companies such as L.E.K and Medisophy Capital to the show to share the latest market reports covering the medical device industry, the entire medical industry, and the new growth points and changes in the medical device market.
Regulatory Lecture
Regulatory Lecture focuses on "Best Practice for Product Compliance and Market Launch". Keynote Speakers were from Ming Xin Cardiovascular Disease Hospital of Wuxi, WuXi AppTec China Testing Center, and Mid-Link Group Company sharing their insightful ideas.
Quality Focus
Medtec China has a co-located show, Quality Expo, for establishing a resource exchange platform for people working in quality control. It usually gathers many high-quality testing companies such as Techmax Info. Tech. Co., Ltd.,Uson L.P., Boyue Instruments (Shanghai) Co.,Ltd,Tinius Olsen Testing Machine Shanghai Co., Ltd,Ningbo Enorsen Intelligent Manufacturing Co.,Ltd,MARPOSS (SHANGHAI) TRADING Co., Ltd,and Innomatec China to exhibit, as well as hold a Quality Expo conference focusing on quality control, which provided a professional communication platform for quality engineers.
Exhibitor Seminar
Celanese (China) Holding Co., Ltd
Addressing the Needs in Drug Delivery Devices -Material and Technology innovations from Celanese
To discover more, please click here to download Post Show Report 2019