Medtec China 2022 Rolls Out New Exhibiting Zone of Active Medical Equipment
(Medtec China, Shanghai) Medtec China 2022, held from August 31 to September 2 in Shanghai China, rolls out new exhibiting zone of Active Medical Equipment, as well as R&D Consulting & Software exhibiting zone and Medical 3D Printing exhibiting zone, focusing on the development of R&D and exclusive industry resources integration, actively responding to the published list of seven main medical device fields for 14th Five-Year Plan (2021-25).
The 14th Five-Year Plan for medical equipment industry development plan, jointly released by the National Health Commission (NHC) and National Development and Reform Commission (NDRC) and ten other central departments, has shown that the medical device market in China was valued at over 840 billion yuan in 2020 and post an 11.8% growth year-on-year. Also, it strengthens the development of Active Implant Interventional Devices, Treatment Equipment, Monitoring and Life-Support Equipment, Diagnostic Testing Kits, Health Care and Rehabilitation Equipment, Maternal and so on. China also will pave the way to speed up the diagnosis and treatment level of traditional medical equipment such as CT and MR and promote the digitalization of medical equipment.

thousands of professional attendees visit Medtec China 2020
New business and Medtech expected at new launched exhibiting zone of Active Medical Equipment
With the promising marketing, benefit policy and strategic business insight, Medtec China has built up the strong reputation and sourcing on medical electronics, which paved the new launch of Active Medical Equipment exhibiting zone for Medtec China 2022, drawing various companies to participate and bring products of optical components, endoscopic parts, lasers, imaging solutions, chips, sensors, integrated circuits, connectors, power supplies, motors and software to showcase. Exhibitors involving Shenzhen Ojos Medical Co Ltd, SmartVein (Jiaxing), Medical Technology Co., Ltd, Dongguan Nisus Electrical Materials Co.,Ltd, Jiangyin Huilong Electric Heating Appliance Co., Ltd, BEE Medic GmbH, will bring their latest products such as endoscope camera module, multifunctional endoscope test platform, endoscope handle cable, multifunctional endoscope test platform, Orthopaedic power transmission cable connector, Neurofeedback Device, NeuroLab ERP/EEG. Click here to book your stand at Active Medical Equipment exhibiting zone.
Industry hot trendy such as In Vitro Diagnostics (IVD), Medical Rehabilitation, Homecare and Clinical Beauty Solutions, Surgical Robot Design and Manufacturing are part of Active Medical Equipment exhibiting zone as well. HS Medical Technology Co., Ltd, Shenzhen GuYuan Plastic Produce CO., LTD., Zhengzhou Zhijie Biotechnology Co., Ltd will display newest products including testing/ PCR tube, pipette tip, reaction cup, reagent strip, automatic nucleic acid extraction and purification instrument, biological magnetic beads. Beijing Zhuojie Yipin Technology Co., Ltd, Guangdong Songbo Nano Alloy Tube Co., Ltd., Exlaser Hebet, and FP Medical TECH (SH) Co., Ltd. will display new technology and solutions at Medtec China 2022, for example, seven-axis intelligent cooperative arm, prototype, service of laser process, robin CDSA, surgical robot, machine casing. Click here to check out 21 exhibition categories.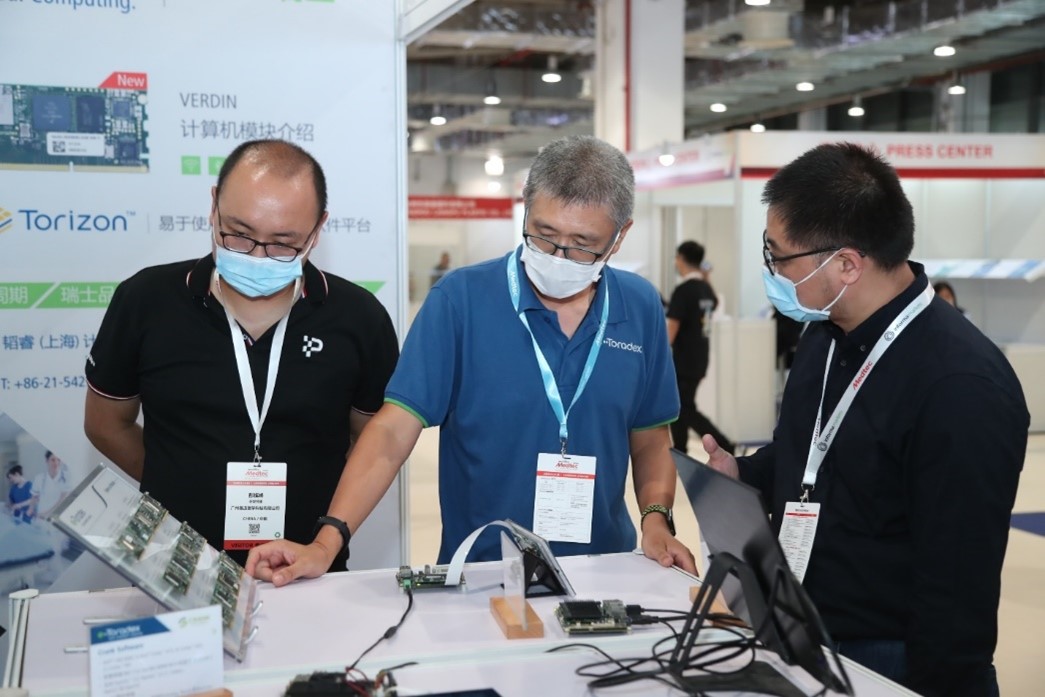 Visitors are testing electronic components at Medtec China 2020
Medical design and innovation are the drive of medical device industry development, and the fast iteration coming along with agility of manufacturing technology are the key. Medtec China, has been integrating industry resources to focus on manufacturing over a decade, set an R&D and Manufacturing exhibiting zone that includes super-precision laser machining, machine tool and additive manufacturing and R&D Consulting and Software Service. TRUMPF, Coherent and GF Machining Solutions, gain the reputation for the world's pioneering suppliers of laser manufacturing solutions/processing solutions, exhibited at Medtec China for years. 2022 visitors will see these companies showing up with cutting-edge products, technologies and solutions including but not only TruMicro Mark 2000, GL.Smart , GL.compact II ,Complete Precision Laser Cutting System, ExactCut ,Laser Marking System. Click here to see Exhibitor List 2022.
Seize business opportunities and reach out to customers by 50 media partners with Medtec China
As a stop for Informa Markets' Medtech World series of global medical design and manufacturing brand exhibitions, Medtec China has a wealth of business resources and media resources cross China and out of China. Not only in collaboration with medical industry core journals, such as "China Medical Equipment", "Chinese Journal of Medical Instrumentation", "Medical Equipment", "China Medical Device", "Medical Manufacturing and Design for China", but also have deep cooperation with dozens of famous industry vertical media including EEworld, 3D Printing World, 21IC China Electronics, Electronic Engineering, 3D Printing World, Elecfans, EEChina, Medical Valley, Made-in-China, Ringier industry sourcing. In line with the planning of the new exhibition area and future development goals, Medtec China continues to develop media partners. Nearly 50 media partners will promote Medtec China 2022 to work on reaching medical engineers worldwide.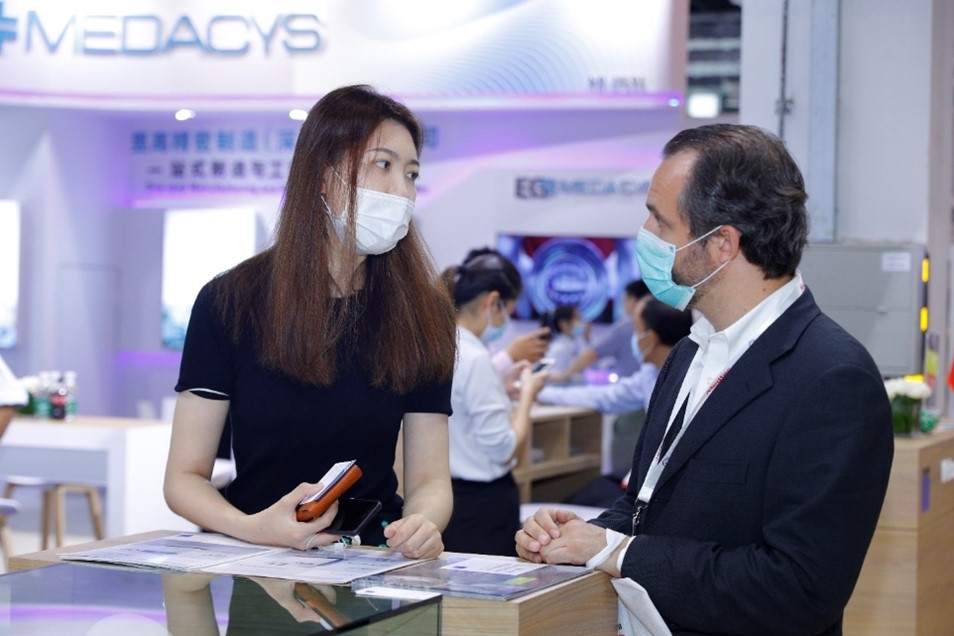 Exhibitor and visitor are communicating at Medtec China 2020
Medtec China 2022 is to set sail again in Halls 1 and 2 of SWEECC from August 31 to September 2, 2022, with an even greater scale of exhibition, new exhibit areas, more advanced products and technologies to create more business opportunities and better exhibition experience for exhibitors. Stands in Hall 1 are sold out now. Stands in Hall 2 are available for booking in limited supply. Medtec China will gather about 800 exhibitors and over 40,000 visits from different regions in the world, click here to seize the great business opportunities at Medtec China 2022.
For more information, please visit Medtec China's website : www.medtecchina.com
For exhibition, visits and media cooperation, please contact:
Carina Li
Tel: +86 10 6562 3308
E-mail: [email protected]
Medtec China Organization Committee