International Buyers MicroPort, Tuoren, Medtronic, and Stryker are attending Medtec China 2018
Medtec China, the leading medical device design and manufacturing exhibition in China, will take place 26–28 September 2018 in Shanghai. More than 400 exhibitors will showcase their latest offerings at Medtec China 2018, among which 75 suppliers are first-time participants at the event. More than 20, 000 decision makers, purchasing staff, R&D engineers, product engineers and quality inspectors from 4, 500-plus medical device manufacturers will congregate at the show. Both international and domestic buyers such as MicroPort, Tuoren, Shinva, J&J Suzhou, BD Suzhou, Medtronic China, and Stryker are attending Medtec China 2018.

2018 New Exhibitor Logos (selected)
Large Medical device manufactures constantly join Medtec China 2018
Pre-registration has been underway for two months, the number of attendees and their registration growth rate are both beyond that of the same period of last year. Many well-known medical device manufacturers will visit Medtec China as part of delegations to meet hundreds of industry peers at the largest gathering in China. More importantly, they are coming to search for high-quality suppliers, purchase new products and access product innovation ideas over the three-day duration of the show.
Up to now, companies such as Shanghai Microport Medical (Group), Stryker (Suzhou) Medical Technology, J&J SUZHOU; Abbott, MicroPort, Tuoren, Shinva and PINS Medical Equipment have registered to attend. For more information about Medtec China Buyers, please call +86 21 6157 7217.
400+ Suppliers covering 21 exhibits categories optimizes visiting experience
This year, 400+ suppliers are going to exhibit their cutting- edge products, technologies and services at Medtec China 2018, covering the entire medical design and manufacturing chain. For example, DuPont (China) Research & Development and Management, Safe Secure Packing (Shenzhen), Shanghai Pumao Packing, Bemis Flexible Packaging (Suzhou) will showcase medical packaging materials; DSM, Nusil, and Visaido Technology will exhibit implant materials; Lubrizol Management (Shanghai), Eastman Chemical (China), INEOS Styrolution Polymers (Shanghai), Covestro (Hong Kong) Limited, ALBIS PLASTIC (SHANGHAI), and Trinseo (Hong Kong) Limited will show polymer materials; Johnson Matthey, Fort Wayne Metals, and TANAKA, TOKUSEN will introduce medical metals; HnG Medical, Trelleborg Sealing Solutions (China) Co., Ltd, Norson, and Pall Filter (Beijing) will exhibit medical components; and DSM, SCS, Unitak Science & Technology Co., and Siansonic Technology Ltd. will introduce their surface treatment services.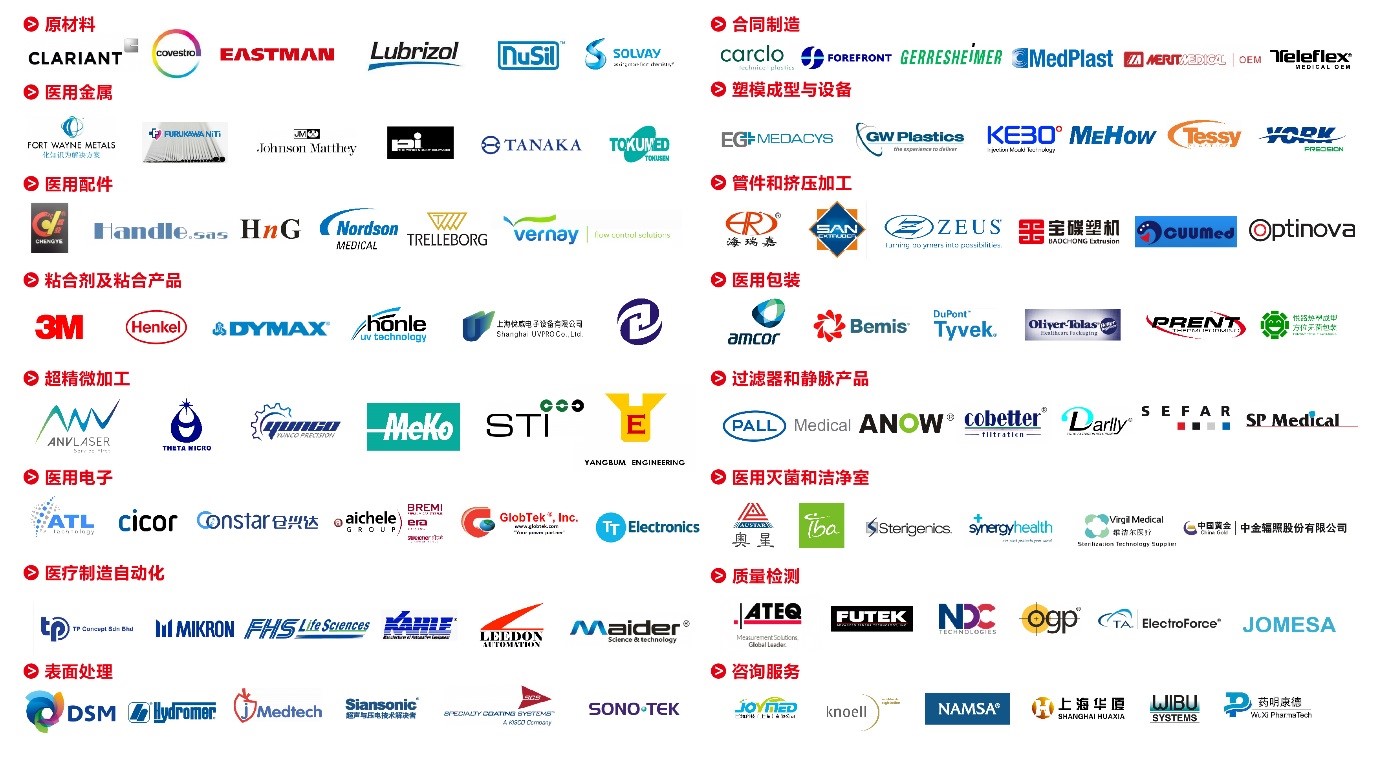 2018 Exhibitor List (selected)
50-Plus Keynote Speakers discuss trendy topics of Regulation, Quality and Technology
Every year, Medtec China holds the MDiT Forum and Regulation Summit 2018 and many other onsite conferences and activities to provide visitors with a great opportunity to learn and communicate with keynote speakers, professionals in specific industries, peers and government officers from all over the world. Several speakers have confirmed their participation in and support of Medtec China 2018: Jiang Hua, director of biology division, CFDA Tianjin Medical Device Quality Supervision and Inspection Center; Yan Liang, Chairman of Shanghai Pudong Medical Device Trade Association; William Bill, Assistant Director of the FDA China office; Yu Zeli, RAC Global; Yi Manqi, Regulation director of J&J, and Thomas Jaw, Medical Manager at NAMSA. Besides, WuXi AppTec will bring the VP of its Safety Assessment Center, Director of Technical & Regulatory, Director of Analytical Chemistry and Technical Director to share Biological Evaluations of Medical Devices and ASCA of medical device to FDA and CFDA standards during the Regulatory Lecture.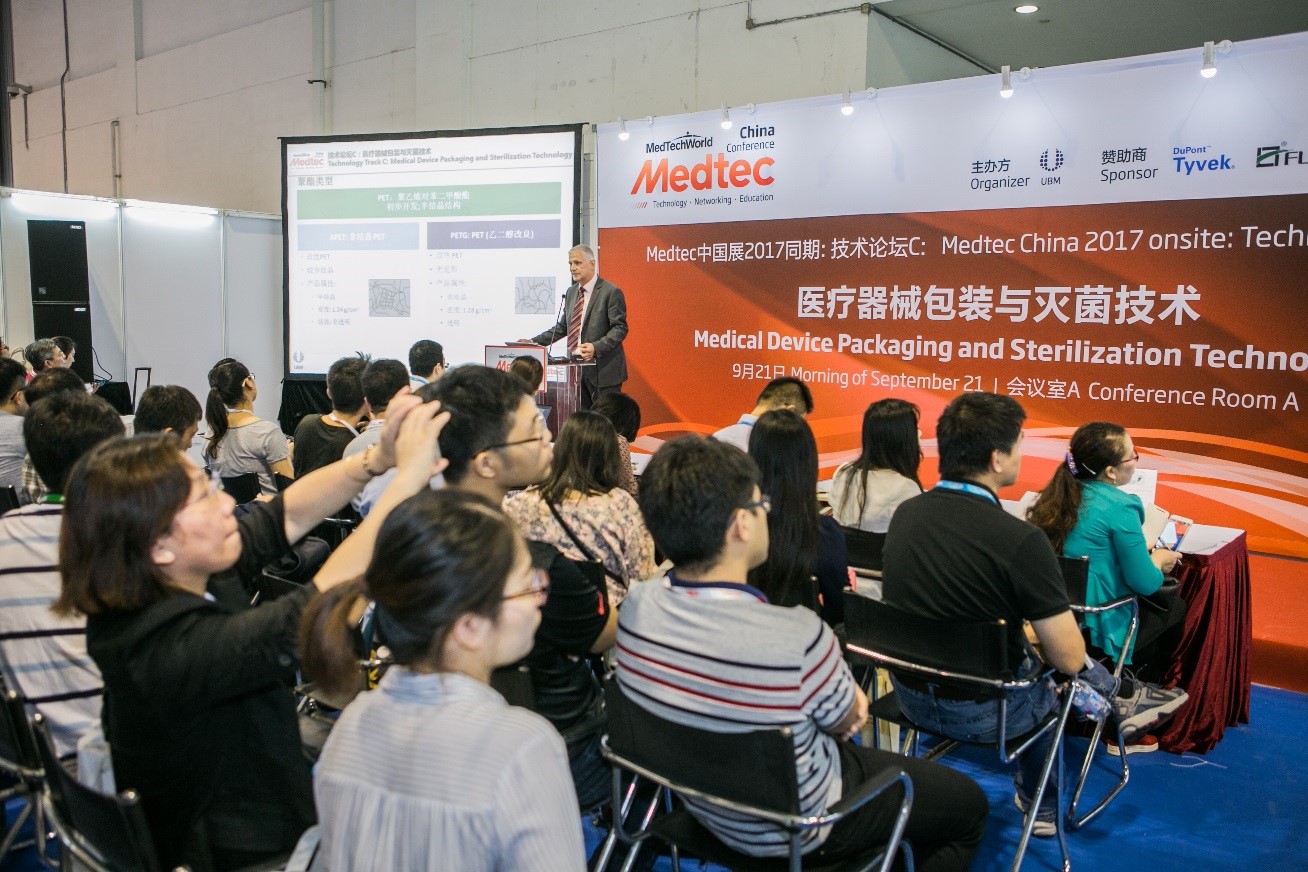 2017 Onsite Conference
Only seven booths remain available, and booth reservation ends in July. Don't miss this great opportunity for the global medical market in 2018! If you want more information about 2018 exhibitors, visitor purchasing needs, or booth reservation, please click here or call us.
MediaExhibitVisitConference Contact:
Carina Li
UBM China
T:+86 10 5730 6163
Get more information: www.medtecchina.com