Medtec China 2018 ' scale will extend 10% to feed the rapid growing need of medical device industry in China
(2018.3.5, Shanghai) Medtec China 2018 is taking place on September 26-28 in Shanghai China. This year the scale of the show will extend 10% reaching a new height since 2015, it is possible to use a whole hall to hold the show. This year's show has set up 14 exhibit zones covering the entire chain of Medical Device design and manufacturing: Medical Components; Surface Treatment; Full Service Contract Manufacturing; Ultra-Precision Machining; Automation; Packaging, Sterilization, Labeling; Design, Research & Development, Software Regulations; Electronic Components, Motors & Motion Control Pumps & Valves; Smart Manufacturing; Testing, Metrology & Inspection Supplies; Materials & Adhesives; Moulding & Manufacturing Equipment; Materials, Components and Process; and Dressing Materials and Process.
As the world-leading exhibition for Medical Device Design & Manufacturing in China,Medtec China has been acknowledged and appreciated because of its internationalization, profession and advancement, 92% booth of Medtec China 2018 has been sold out. 3M、Eastman Chemical、Henkel Loctite、Clariant Chemical、Mikron Industrial Equipment、Bemis Flexible Packaging、Finlumen、DSM BiomedicalInc those international renown companies are going to bring their most advanced products and solution to join the this year's show. Also, enterprises from Germany, Singapore and Taiwan will again show up as country pavilion respectively with larger scale and richer exhibits while Israel companies will also gather here to participate in this edition.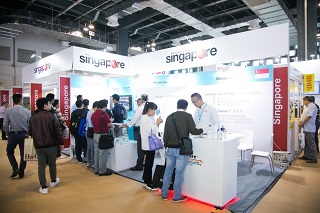 Visitors are communicating with Singapore exhibitors on Medtec China 2017
China is a thriving market for Medical device industry. In 2019, the Chinese market scale of medical devices will surpass 600 billion yuan and the compound annual growth rate is expected to be 16.8%. It will still maintain a relatively rapid growth. Therefore, Medtec China 2018 will gather 400 global suppliers specialized in Medical Device design and research and development, raw materials, components, processing technologies and manufacturing service, in order to provide high-quality resources to feed the growing needs of domestic medical equipment industry.

Meanwhile, Medtec China 2018 has a co-located conference The MDiT Forum and Regulation summit 2018 which is always highly concerned by Medical Device Industry professionals. This year it will focus on the "Regulation, Quality and Technology" as usual to talk about Chinese Regulatory Updates and Compliance, US & EU Regulatory Updates and Market Access, Outsourcing and Supplier Management, CFDA Overseas Inspection and FDA Inspection, Next-Gen Design & New Technology, Pack & Ster Hub, Plastic Innovation,and Dressing Material and Technology.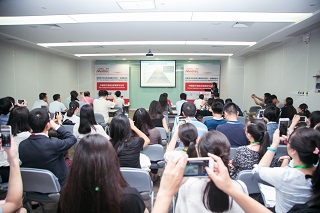 Conference delegates are recording notes on The MDiT Forum and Regulation summit 2017

Besides, there are many other speeches and actives always attracted many visitors on site like Market Report Track of Medical Device Industry, Regulatory Lecture, Israel Tech Demo, Microfluidic Technology Forum, as well as Purchase Conference from Device Manufacturers. To find out more information about Medtec China 2018 please follow our coming news or visit our official website: www.medtecchina.com

To obtain more information for exhibiting, visiting and cooperating, please contact us:

Carina Li

Tel: +86 10 5730 6163

Email: [email protected]

Medtec China Organizing Committee