Medtec China brings together 850 suppliers and 40,000+ buyers for every part of the Medical device development cycle
According to a report released by Roland Berger, the medical device market in China was expected to reach RMB 958.2 billion in 2022, with a compound growth rate of 17.5% in the past 7 years. The rapid and vigorous development of the medical device industry will surely drive the rapid growth of the upstream component industries. For procurement engineers, it is crucial to find compliant suppliers with significant component development and QC capability currently. Medtec China, as one stop of the global MedTechWorld series exhibitions, is dedicated to building a high-quality, convenient, and comprehensive one-stop commercial purchasing platform.
Medtec China 2023 will be held in B1-E1 of Suzhou International Expo Centre on June 1 – 3, and 850+ well-known suppliers have been invited to the exhibition so far, among which 416+ exhibitors will make the debut for the first time, and international brands account for up to 67%. 21 Categories of exhibits throughout the whole industry chain of medical product manufacturing will be exhibited, including R&D and Design services, materials, adhesives and adhesive products, components, electronic components, motors and motion control, pumps and valves, filters and IV products and so on. Please click here to communicate with 850+ world's leading medical technology enterprises, purchase and study with 40,000+ engineers from thousands of device manufacturers such as Medtronic, GE, BD, MicroPort and Lepu Medical.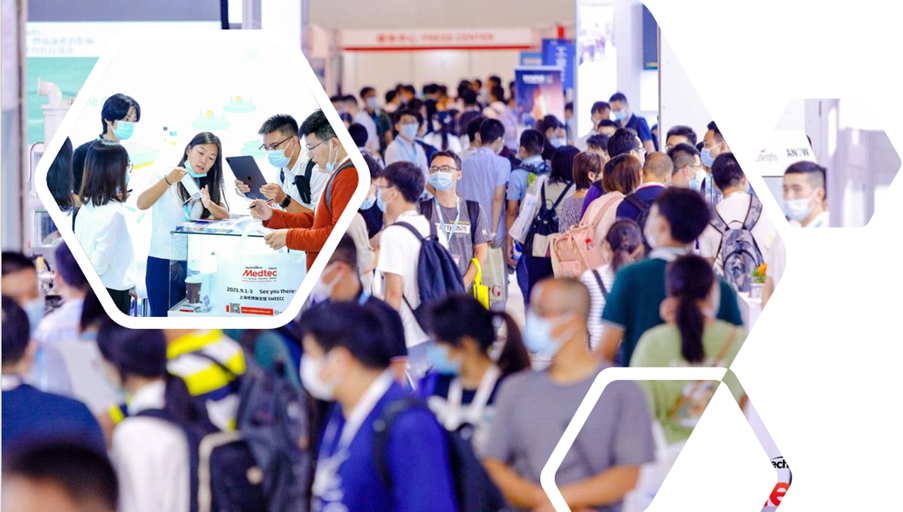 Rush of People at Medtec China
850+ Global Well-known suppliers Confirmed to Showcase, Meeting Requirements for the Development Cycle of Medical Device
In the rapidly changing international situation and economic environment, how to find suppliers accurately, quickly and precisely with stable supply is a common problem for every R&D and procurement engineer. 16 exhibiting zones gather 850+ high-quality suppliers at home and abroad, including 3M, Coherent, ZEUS, Lubrizol, Fanuc, ELGILOY, Mikron, TRUMPF, Fort Wayne, Nolato GW, TE Connectivity, MEHOW INNOVATIVE, Trelleborg, Maider, Momentive and AccuPath Medical. Furthermore, nearly 120 advanced suppliers with active medical equipment design and manufacturing resources have been invited to participate in the exhibition, which focuses on the production and manufacture of advanced medical devices. The international exhibition area will be occupied by high-tech medical device companies from the United States, Germany, Japan, Singapore, Hong Kong, and other countries and regions. Medtec ensures fast product renewal iterations and a stable supply chain for buyers, from the release of new technology to on-site product demonstrations. Are you looking for a convenient and precise procurement opportunity? Click here immediately to register Medtec China 2023, looking for solutions in line with product manufacturing from materials, technology, regulations, and other aspects.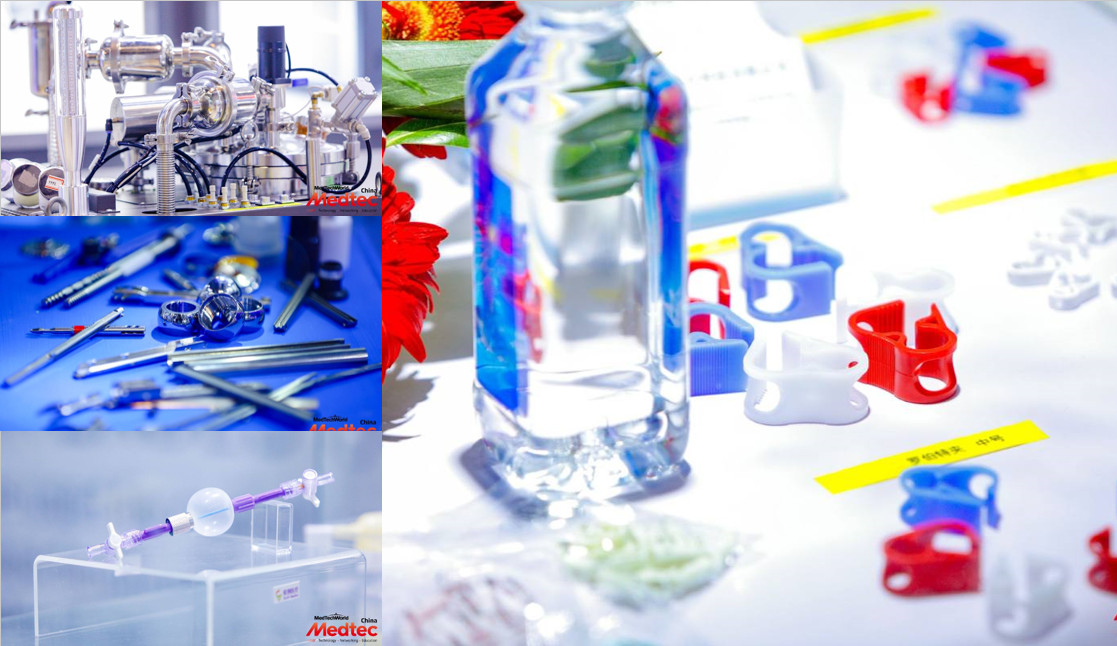 Exhibit Collection at Medtec China
To meet the demands of product design and engineering consultation in preliminary design control of the medical device, Medtec has set up R&D and Software Service Exhibition Area. Currently, Beijing Zhuojie Yipin Technology, JoyMed Technology, Toradex, V&G Information System, TechMax, LKK and other enterprises have exhibited. They will bring products and services such as seven-axis medical robotic arms, CDMO, Abalis iMX8 Computer Modules, OSSD-BGA SATA nano, Minitab Workspace, and Anke 256 slice CT-ANATOM S800.
The Exhibition Area of Plastic Materials, Adhesives &Medical Component and Electronic Components, Motors & Motion Control Pumps & Valves are the main purchasing areas for the device production stage, Lubrizol, Momentive, Celanese, Johnson Matthey Pacific, ELGILOY Specialty Metals, Fort Wayne, RRC, LEMO, Shanghai Xunyin, Fuyansheng Electronics, Shanghai FuAn Biomechatronics Corporation, YSenser, Dongguan Silent, Perma Pure LLC and other related enterprises have joined. Click here to view Exhibitor List 2023.
Automation exhibitors such as TRUMPF, Han's Laser, Coherent, INNO Machining, Shanghai 3K Laser Technology, Kunshan Yunco Precision, Maider, Mikron, PIA Automation, Teamtechnik Maschinen und Anlagen and Shanghai Marine Diesel Engine Research Institute continue to participate the exhibition, providing customized efficient automation solutions for micro-processing system, precision measurement system, precision automation system, independently-developed intelligent production lines used in the manufacturing of infusion apparatus, medical IV catheters, and filter spinning lines for use in hemodialyzer research and development and other fields.
Quality Expo China will also be held simultaneously. Testing, metrology, inspection and calibration supplies OGP, Starrett Tools, Shanghai Ruixi, Preclinic Medtech, Be Wise, Marposs, Nordson TEST & INSPECTION, China Vision, Labaim Testing, Keyence and Upton Technology, which jointly guarantee the quality control of medical devices after mass production.
The Exhibition Area of Packaging, Sterilization, Labeling& Cleanrooms has attracted enterprises such as Amcor, Prent, Oliver, Sterimed, Kingwills, Berry Ace, Dangs New-Materials and Austar, which provide solutions for sterilization of soft packaging products, high-quality medical blister packaging and even for green low-carbon packaging.
If you want to look for product registration consultation, medical device system, medical device testing, biocompatibility testing, package verification, pre-clinical large animal experiment and other services, do not overlook the Exhibition Area of Medtec Medical Regulations and Laboratory Services. You will find the leading companies in this field such as Shanghai Joinin Medicine, EAST-MEDICAL GROUP, WuXi AppTec, InterfaceAsia-Holden, PharmaLegacy Diagnostics, Weihai Desheng, KINTEST, Tour Europlaza and so on. Click here to discuss product compliance and testing plans with the companies face to face.
Medtec China organized international pavilions in Hall B and Hall C, bringing together enterprises from the United States, Germany, Japan, Singapore, Hong Kong, and other countries and regions. Stay tuned for more information on the exhibition group in the follow-up report on Medtec exhibition news.
Keynote Speakers get together at Medtec China, solving Product Development Cycle difficulties
MDiT Forum and Regulation Summit 2023 will begin with regulation, quality, technology and economy covering all links of design, machining, manufacturing, regulation, and testing. Representatives of more than 80 regulatory authorities, hospitals, and research institutes, as well as keynote speakers from the domestic and foreign top and emerging enterprises will be invited to share their reports and insight. 100+ theme conferences cover hot topics such as 3D printing, advanced manufacturing, implant intervention, advanced devices, electronics, dental and orthopedics. Some technical meetings are free of charge, Click here to reserve seats.
The acceleration of product innovation and iteration requires significant technical reserves and support from medical technology suppliers. Medtec has gathered powerful technical resources for medical devices, ranging from Momentive, Avient, Covestro and other masters in medical materials, to leaders in advanced precision machining and manufacturing such as TRUMPF, Coherent and Mikron, and the experts in the quality inspection such as leica microscope system and Marposs, which provide a continuous stream of leading technology solutions, including Colorful High-Performance Solution of Colorant Chromatics™, Liquid silicone rubber LSR/production process LIM, Laser micromachining technology, Application of SIGMASOFT® in Multi-Cavities Medical Products and DoE Optimization, Magical Hands Save Lifes – Model Based Rapid Medical Robot Design. Click here to find more advanced technologies and exciting topics.
100+ speakers are invited to discuss in terms of regulation and quality, who come from authorities and research institutes including International Travel Health Association, Statistics of Medical Research & Biometric Center, Advanced Research Institute of China Food and Drug Administration, FDA International Program and Policy Analysis – Medical Devices, Clinical Pharmacology Center of Fuwai Cardiovascular Hospital, Chinese Academy of Sciences Research Institute, Shanghai Medical Products Administration, and Peking University. They will be present to analyze the future development trend of the medical device industry, new regulations on supervision and administration of medical devices and related supporting new policies, electrical safety standards for medical devices, and advanced active equipment supply chain risk management.
Medtec China, your handy personal procurement assistant
To be your handy personal procurement assistant is Medtec China's goal. We have CMDM online website and Wechat account(ID: imedtecchina) assisting procurement engineer with their daily procurement. Medtec China procurement assistant will search thousands of businesses and product libraries and try to recommend suitable suppliers.
CMDM, renowned as the Medtec China Online Purchasing Service Platform, is also an excellent channel to view detailed supplier information, product descriptions and images. Thousands of goods, services, technology, and solutions can be found in this website. And 365-day supply and demand, convenient search are all available. Click here to access the CMDM platform to find products | OEMs | design resources.
850+ exhibitors are anticipated to participate in Medtec China 2023, which will take place at the Suzhou International Expo Centre from June 1 to 3. Over 40,000 professional visitors are anticipated to attend, including Medtronic, GE, Philips, Johnson & Johnson, Abbott, MicroPort, WEGO, TuoRen, Xinhua, Lifetech, Yinyi Biotech, Aohua Endoscopy, Lepu Medical, Venus, Genesis and Healthcare and so on. At present, medical packaging zone, testing, metrology & inspection zone, orthopedic & dental processing zone, electronic and IVD Reagents zone, super-precision machining and other exhibition areas are in the hot booking. Click here to apply for free badge. The pre-registration channel of Medtec China 2023 is open, sign up immediately for a free visit and register early for multiple value-added benefits. Pre-registration channels and methods are as follows:
1.Online Registration
Visit Medtec official website: en.medtecchina.com to pre-registration online;
2.Phone Registration
Call the visitor hotline +86-10-6562 3307 for telephone registration;
3.Group Registration
If you are a group of more than 10 people visiting, please call us : ​+86-10-6562 3307;
For more information, please visit Medtec China's website: en.medtecchina.com
For exhibition, visits and media cooperation, please contact:
Sophia Xu
Tel.: +86 10 6562 3307
Email: [email protected]