New Penis Implant Raises the Bar for Erectile Dysfunction Solutions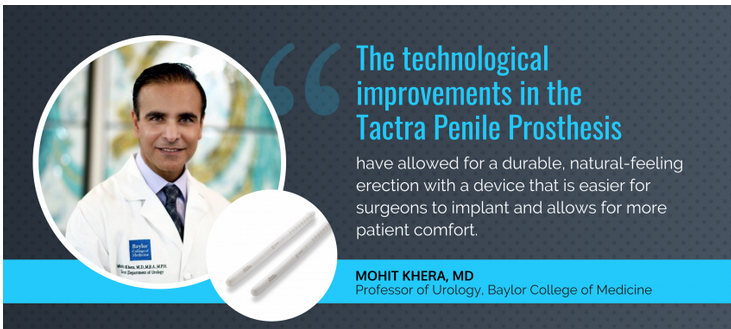 U.S. surgeons treating erectile dysfunction (ED) now have access to a malleable penile prosthesis that is easier to implant and designed to offer the patient and his partner a "more authentic, natural-feeling" erection.
The recently-launched Tactra prosthesis is manually lifted up for intercourse and manually pushed down when not in use. It is the first new innovation in penile implants from Boston Scientific in more than a decade. The Tactra is designed with a natural-feeling dual-layer silicone and includes a nitinol core, which is supposed to help optimize comfort, rigidity, and durability for effective penetration and concealment.
An important, but sometimes overlooked component of a packaging shelf life validation is transportation and distribution testing. This testing is required for all commerce and is an important early step in total package design. This webinar will introduce you to the basics of transportation and distribution testing by explaining why it is important and what a typical distribution test sequence looks like.
Brought to you by Nelson Labs
Boston Scientific plans to launch the Tactra in Europe, Canada, Latin America, Asia Pacific, and Saudi Arabia later this year.
"The technological improvements in the Tactra penile prosthesis have allowed for a durable, natural-feeling erection with a device that is easier for surgeons to implant and allows for more patient comfort," said Mohit Khera, MD, a professor of urology at Baylor College of Medicine. "This device will expand the number of patients with ED that we can treat via penile prosthesis."
While there are medications like Viagra on the market, men with certain medical conditions are not able to take those medications, and they don't always work. Inflatable penile devices are another option but can be awkward to use.
That's why researchers have been working to improve device-based solutions for this common condition. One such researcher, Brian Le, of the University of Wisconsin-Madison, designed a heat-activated penis implant that made headlines back in 2017. The device was still in mechanical testing at that time and is still several years from commercialization, however that research was funded, in part, by Boston Scientific.
More specifically, the research was funded by American Medical Systems (AMS), before Boston Scientific acquired the men's and prostate health businesses of AMS in 2015 in a deal valued at $1.65 billion.
A former spokesperson for Boston Scientific told MD+DI in January 2017 that the company supports research that advances medical and scientific knowledge related to products and relevant disease states across all of the company's businesses. She also explained that the company has a global investigator-sponsored research program that is open to submissions from researchers interested in conducting their own work in the field.
Before bringing the Tactra prosthetic to the market, Boston Scientific offered three other penile implants, two that are of the inflatable variety and one that also is a malleable device, meaning it can be bent downward for concealment, or positioned for an on-demand erection.
来源:MDDI