Emerging Ophthalmic Devices Capitalize on the KISS Method
Two device company executives have stepped away from the path of smart technology, instead offering new capabilities in a simple, yet groundbreaking way.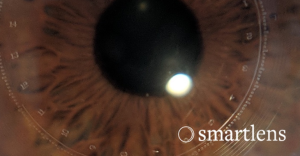 Device manufacturers in California and Israel have recently unveiled ophthalmic devices that are the hallmark of simplicity yet may also provide groundbreaking opportunities in patient care, bringing a whole new meaning to the Keep It Super Simple (KISS) method.
CorNeat Vision, based in Ra'anana, Israel, recently received FDA 510(k) approval for its synthetic surgical patch, the EverPatch. The Mountain View, CA-based Smartlens also recently received $6.1 million in funding to pave the way for further trials and possible FDA approval during 2024 for its miLens soft contact lens that measures intraocular pressure.
Both devices eschew any sort of smart technology such as electronics or communications modules, but executives of both companies say they offer new capabilities that can make care easier for both clinicians and patients. Of course, they say, the principles and materials science behind the devices go back several years.
"I started working on these devices about a decade ago and just recently received my first FDA approval," said Gilad Litvin, MD, CorNeat co-founder, chairman, and chief medical officer. "The technology was developed a long time ago, but only in the past 15 years, people have been able to initiate studies because the scale of the engineering became so minute, it could imitate the tissue anatomy and architecture in a way that we can fool our bodies' cells."
The company says the EverPatch is the first synthetic, non-degradable tissue-integrating matrix for use in ophthalmic surgeries. It is a non-woven polymer matrix which integrates with surrounding tissue and is intended to reinforce the sclera and aid in the physical reconstruction of the ocular surface. The predicate device upon which the FDA based its approval was the IOP KeraSys bio-engineered patch graft, which is made from processed porcine submucosa. And, Litvin hopes, his company's device can advance not just ocular surgery — but also numerous other types — out of the era of donor and processed tissue.
"I founded CorNeat Vision based on the artificial cornea," Litvin said. "Trying to replace a native cornea today we can only use tissue donations. I tried to find a material that could help integrate an artificial lens with resident ocular tissue without using cadaver parts. As a researcher I was always under the impression that using spare parts from deceased donors is something we'd like to avoid or surpass."
He experimented with several engineering techniques before settling on electrospinning, which he said uses a high electrical field to polarize the subunits of the polymer. This allows the device to have fibers and pores, with which surrounding tissue can easily integrate itself, at nanometer scale.
Serendipitously, when Litvin mentioned his quest to find a material that would integrate with an artificial cornea to other surgeons, they asked if the polymer could be used as a standalone patch.
"They told me they often used a patch of processed tissue merely to conceal things or strengthen areas after trauma — to close lacerations that left tissue missing, for example, and you can't close the eye. They said, 'Forget the artificial cornea — can you get me this material?'"
Now, with FDA approval in hand, Litvin hopes the utility of the EverPatch can be demonstrated beyond ocular surgery.
"Approval of this patch material is very positive because it opens the door to its use as a generic tool in surgery," he said. "There are various surgical matrices that are used in procedures from general surgery, gynecology, reconstructive surgery, and so on. Once we are able to prove this as a generic tool, I hope subspecialties in addition to ophthalmologists will adopt it."
Litvin said CorNeat is currently in the subclinical phase of testing the material for periodontal use. Called the gPatch, the company said the matrix is the first permanent and tissue-integrating periodontal surgical matrix for guided bone regeneration and gingival recession surgeries. CorNeat is working in concert with the US Navy on the trials process.
"We are initiating animal trials and hopefully by next year we'll have approval to start implanting in humans," he said. "Because the gPatch is pretty simple like the EverPatch, and we already have approval for the eye, approving this in the mouth is less risky."
Litvin said the artificial cornea which began his odyssey, called the KPro, is still in the works, too, with second phase trials approved in Canada and Israel, with research groups in the US expressing interest.
Like CorNeat's technology, the Smartlens miLens is the product of several years of painstaking research, and a principle running counter to making every device as smart as possible. The lens is a soft contact lens featuring a microfluid-filled chamber with graduated markings that allow a user to take a photo and send it to their eye doctor. Software in the cloud then analyzes the amount of intraocular pressure in the eye by where the fluid is detected on the lens markings. The device, if approved, could move an important part of glaucoma care — the monitoring of intraocular pressure — out of the clinic and into the home.
An initial trial of the lens on 25 patients, reported at the 2023 American Glaucoma Society annual meeting, showed the miLens compared acceptably with the gold standard Goldman applanation tonometry, which requires visits to an eye doctor's office.
"Right now, when doctors prescribe medication, it takes three to four months at least until they understand if the medication is working or not," said Savas Komban, Smartlens CEO. "With miLens we will be able to see results much more quickly."
"Removing electronics from the design makes the device fully soft," he continued. "There are no hard materials, no metals, no batteries. It's like a corrective contact lens, that was the experience we wanted to give our users. And, no electronics also allows a much thinner device. Our device is 1/3 to 1/4 as thick as an electronic based contact, which really helps in getting adoption and acceptance. You want a device people will want to use and be comfortable using as frequently as they need to, as frequently as their doctors need to see the data."
Komban said the new round of funding will help kick off another round of trials and he hopes to get FDA approval by the end of 2024. The biggest change in the next phase, he said, will be that the lens will stay in a subjects' eyes up to a full 24 hours — the first trial phase measured results and comfort up to four hours.
"We have been dedicating the last six or seven years to this," he said. "The main thing that drove all of us together was the amount of challenge we have seen to address an unmet need. Both my parents were suffering from glaucoma. I was aware of the need and the fact that there was no way to monitor your eye outside the office was really hurting me."