Surgical Robotics Enters a New Era
A Belgium surgeon has performed a robotic prostatectomy using Medtronic's newly launched Hugo robotic-assisted surgery (RAS) system. The company won CE mark for Hugo in October, forever altering surgical robotics, the market that Intuitive Surgical pioneered more than two decades ago.
Alexandre Mottrie, MD, head of urology at OLV Hospital in Aalst, Belgium performed the robotic prostatectomy. Mottrie is also the founder and CEO of the Belgium-based Orsi Academy, a multidisciplinary center for training, research and development, and data analysis to improve minimally invasive surgery best practices.
"Performing Europe's very first procedure with the Hugo RAS system is a career highlight for me," said Dr. Mottrie. "With more than two decades and 4,000 robotic-assisted surgery procedures under my belt, I am intimately aware of the barriers that have kept the benefits of surgical robotics from physicians, hospitals, and patients. Now, I believe we are entering a new era filled with greater access and flexibility."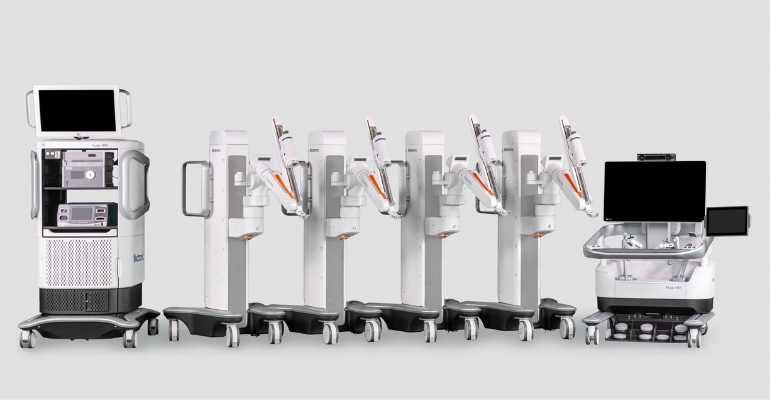 In addition to the CE mark, The Hugo RAS system has a medical device license in Canada, and is approved in Australia.
"This is an exciting and important moment for healthcare in Europe and we're proud to share it with Dr. Mottrie and the team at OLV," said Megan Rosengarten, president of the surgical robotics business at Medtronic. "Dr. Mottrie has left a meaningful mark on our program over the many years we've worked together, and now, through our partnership with OLV, Medtronic's journey to bring the benefits of robotic-assisted surgery to more patients in Europe is well underway."
The Hugo RAS system — Medtronic's solution to historic cost and utilization barriers that have kept surgical robotics out of reach for many hospitals — is a modular, multi-quadrant platform designed for a broad range of soft-tissue procedures. It combines wristed instruments, 3D visualization, and Touch Surgery Enterprise, a cloud-based surgical video capture and management solution, with dedicated support teams specializing in robotics program optimization, service, and training.
In 2021, Medtronic announced the first urologic and gynecologic procedures with the Hugo system in Latin America and Asia-Pacific. Those procedures and cases in Europe will become part of the Hugo RAS system patient registry, which is collecting clinical data to support regulatory submissions around the world.
"We're incredibly proud to have left our stamp on medical history as the very first center in the region to embrace surgical robotics in 1999," said Peter Verhulst CEO at OLV Hospital Aalst. "Decades later, we are delighted to be recognized as a robotic surgery center of excellence, leaving another indelible mark as the first hospital in all of Europe to offer the Hugo RAS system and the first in the world to have Medtronic's two RAS platforms — the Hugo system for soft tissue and the Mazor system for spinal surgery. The OLV Hospital closely monitors innovation in the medical world and often plays a pioneering role in the introduction of new minimally invasive techniques. The worldwide reputation of our OLV doctors in the field of robotic surgery and other minimally invasive procedures is a result of this. With the Hugo RAS system, we are again at the forefront, with the latest medical innovation that is designed with the patient at heart."
Growing surgical robotics field
Intuitive Surgical's da Vinci platform has been used in more than 10 million surgical robotics procedures, but the company faces mounting competition from Medtronic, Johnson & Johnson, Vicarious Surgical, Asensus Surgical, and others. Although the bigger challenge for all of these companies isn't so much to take on Intuitive, but to grow robotic surgery usage overall. While there has been significant hype around the technology, the fact remains that only about 2% of procedures performed globally are currently done using robotic-assisted surgery (in the U.S. market specifically, that percentage is closer to 10%).
"I'm often asked the question, 'well Bob, how do you feel about competing in this 2% space?' And I'm like, 'you're missing the point.' This is about 98%," Bob White, president of the medical surgical portfolio at Medtronic, said during a 2018 investor meeting at which the company first officially introduced its Hugo robotic-assisted surgery system. "This is about 98% of the procedures that aren't being done today. That's about increasing market access and that's something we do very well."
According to Verified Market Research, the global robotic surgery market size was valued at $6.1 billion in 2020 and is projected to reach $22.27 billion by 2028, growing at a compound annual growth rate of 17.60% from 2021 to 2028. Those figures represent the entire robotic surgery market, including orthopedic systems like Stryker's Mako and Zimmer Biomet's Rosa.
During Medtronic's Q2 2022 earnings call Tuesday, CEO Geoff Martha revealed that the company has encountered some supply chain and initial manufacturing challenges during the limited release phase of the robotics platform, which will mean Hugo revenue for the fiscal year will come in below target. Martha said the company is focused on working through those issues and making sure that the initial surgeon experiences with the technology are positive.
"We're off schedule, but we're not off track," Martha said. "And while we're disappointed in the revenue push out for this important program, we're confident that we have line of sight to the solutions we need to be successful and to optimize the customer experience."
Although sales this fiscal year are likely to come in below Medtronic's $50 million to $100 million target, Martha said the company still expects sales for the fiscal year 2022 to be in the double-digit millions, with a strong ramp into fiscal year 2023.
He added that demand for the robotic-assisted surgery remains high, surgeons continue to do cases, the order pipeline continues to build, and Medtronic is on track to start its investigational device exemption trial in the United States soon. The company has also heard from the first surgeons to use Hugo in the clinical setting that they believe the system addresses the cost and utilization barriers that have held back the growth of robotic surgery to date, Martha said.
"We remain confident in the success of this program, and we believe that we're poised to meaningfully expand the soft tissue robotic market and drive growth for years to come," Martha said.
Investors following this space are also eager for Johnson & Johnson's Ottava robotic-assisted surgery system, which the company unveiled in 2020. However J&J said in October during its third-quarter earnings call that the robotic surgery platform is delayed by about two years.
Another strong contender in robotic surgery is Vicarious Surgical, which recently filed pre-submission to FDA for its system. The Waltham, MA-based company is developing a surgical robotics system that combine human-like mechanical arms with virtual-reality technology that the company said essentially acts to "transport surgeons inside the patient when performing minimally invasive surgery."
Vicarious went public through a special purpose acquisition corporation merger with D8 Holdings in a deal valued at $1.1 billion in April.
It also wouldn't be a fair overview of the robotic surgery market without acknowledging the presence of Asensus Surgical, formerly known as Transenterix. The firm sells the Senhance Surgical System, described as a digital laparoscopic platform that goes beyond the typical surgical robotic system, providing surgical assurance through haptic feedback, eye-tracking camera control, and 3D visualization. FDA cleared the Senhance system in 2017.
Article source: Qmed and MD+DI