IBM Bids Farewell to Watson Health Assets
IBM shook up the digital health space Friday with the news that it is selling its healthcare data and analytics assets, currently part of the Watson Health business, to an investment firm. The sale price is reportedly more than $1 billion, although the companies are not officially disclosing the financial terms.
There are a lot of interesting factors to consider as we unpack this news, although some thought leaders say the divestiture did not come as a surprise.
"The Watson Health sale has been anticipated for quite some time. IBM was clearly not gaining much traction in the healthcare market while others such as Google and Microsoft have pulled ahead. Even Oracle has made a big splash in healthcare with its recent announcement to acquire Cerner," said Paddy Padmanabhan, founder and CEO of Damo Consulting, a growth strategy and digital transformation advisory firm that works with healthcare and technology companies.
IBM was one of the first big tech companies to dive into healthcare with its well-known Watson Health supercomputer known for defeating the greatest champions on "Jeopardy!" The platform created a lot of buzz back in 2011, and many people had high hopes for the platform's potential applications in healthcare. In recent years, however, that buzz has significantly died down.
"In the current competitive landscape, IBM would not be considered a significant player in healthcare. Selling off the data assets essentially means an end to the Watson Health experiment; however, it may allow IBM as an organization to refocus and develop a new approach to healthcare," Padmanabhan said.
Assuming there are no regulatory snags, the deal is expected to close in the second quarter of this year.
"Today's agreement with Francisco Partners is a clear next step as IBM becomes even more focused on our platform-based hybrid cloud and AI strategy," said Tom Rosamilia, senior vice president of IBM Software. "IBM remains committed to Watson, our broader AI business, and to the clients and partners we support in healthcare IT. Through this transaction, Francisco Partners acquires data and analytics assets that will benefit from the enhanced investment and expertise of a healthcare industry focused portfolio."
The agreement calls for the current management team to continue in similar roles in the new standalone company, serving existing clients in life sciences, provider, imaging, payer and employer, and government health and human services sectors.
"We have followed IBM's journey in healthcare data and analytics for a number of years and have a deep appreciation for its portfolio of innovative healthcare products," said Ezra Perlman, co-president at Francisco Partners. "IBM built a market-leading team and provides its customers with mission critical products and outstanding service."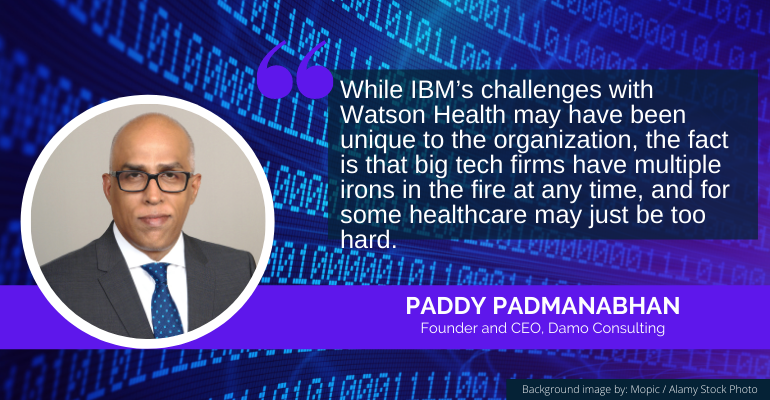 In 2016 IBM doubled the size of its Watson Health business through the $2.6 billion acquisition of Truven Health Analytics. Truven offers healthcare data services targeted at employers, hospitals, and drug companies, and makes software that can parse through millions of patient records. Truven's main offices are in Ann Arbor, MI, Chicago, and Denver. At the time of the acquisition, Truven had around 2,500 employees.
The Truven deal followed other major healthcare acquisitions in the company, including Cleveland-based Explorys, Dallas-based Phytel, and Chicago-based Merge Healthcare. The company paid about $1 billion for Merge.
IBM said the assets acquired by Francisco Partners include extensive and diverse data sets and products, including Health Insights, MarketScan, Clinical Development, Social Program Management, Micromedex, and imaging software offerings.
Padmanabhan said it will be interesting to see how the new owners are able to leverage those data assets.
"IBM's decision to sell its data assets is an indication that it's not just enough to have the data. Applying advanced analytics on the data to generate insights that can make a difference in real-world applications is where the true value lies. IBM had several missteps early on, especially in cancer care applications, that created significant setbacks for the business that they could not recover from.
In 2018, the Watson Health business went through a round of layoffs. The company declined to tell MD+DI at the time how many of employees were let go other than to say it was a "small percentage" of the global business, but online commenters on TheLayoff.com and Watching IBM, along with multiple news reports citing unnamed sources from within the organization painted a different picture of the situation. One Dallas-based commenter on TheLayoff.com said that "we all knew it was coming but nobody expected it to be this fast and rampant," while another commenter estimated that 80% of that same Dallas-based office was let go.
Is healthcare just too hard for big tech?
While we have seen a trend in recent years with big tech firms showing an interest in healthcare, some of those companies are finding those efforts to be easier said than done.
"IBM's decision to sell the Watson Health assets is another instance of a big tech firm acknowledging the challenges of the healthcare space. Last year, Google and Apple had significant setbacks, and Amazon has acknowledged challenges in scaling its Amazon Care business," Padmanabhan said. "In IBM's case, they have missed out on the cloud opportunity and have lagged behind peers in emerging technology areas such as voice. While IBM's challenges with Watson Health may have been unique to the organization, the fact is that big tech firms have multiple irons in the fire at any time, and for some healthcare may just be too hard."
Padmanabhan does not think, however, that IBM's decision to sell the Watson Health assets is an indictment of the promise of AI in healthcare.
"Our research indicates AI was one of the top technology investments for health systems in 2021," he said. "Sure, there are challenges such as data quality and bias in the application of AI in the healthcare context, but by and large there has been progress with AI in healthcare. The emergence of other players, notably Google with its Mayo Partnership, or Microsoft with its partnership with healthcare industry consortium Truveta are strong indicators of progress."
Padmanabhan is co-author with Edward W. Marx, of Healthcare Digital Transformation: How Consumerism, Technology and Pandemic are Accelerating the Future (2020), and the host of The Big Unlock, a podcast focusing on healthcare digital transformation.
Article source: Qmed and MD+DI