MIT Engineers Develop a Digital Fiber
MIT researchers have created the first fiber with digital capabilities, able to sense, store, analyze, and infer activity after being sewn into a shirt.
Yoel Fink, who is a professor in the departments of materials science and engineering and electrical engineering and computer science, a Research Laboratory of Electronics principal investigator, and the senior author on the study, says digital fibers expand the possibilities for fabrics to uncover the context of hidden patterns in the human body that could be used for physical performance monitoring, medical inference, and early disease detection.
Fink and his colleagues describe the features of the digital fiber today in Nature Communications. Until now, electronic fibers have been analog — carrying a continuous electrical signal — rather than digital, where discrete bits of information can be encoded and processed in 0s and 1s.
The new fiber was created by placing hundreds of square silicon microscale digital chips into a preform that was then used to create a polymer fiber. By precisely controlling the polymer flow, the researchers were able to create a fiber with continuous electrical connection between the chips over a length of tens of meters. The fiber itself is thin and flexible and can be passed through a needle, sewn into fabrics, and washed at least 10 times without breaking down.
"This work presents the first realization of a fabric with the ability to store and process data digitally, adding a new information content dimension to textiles and allowing fabrics to be programmed literally," Fink said.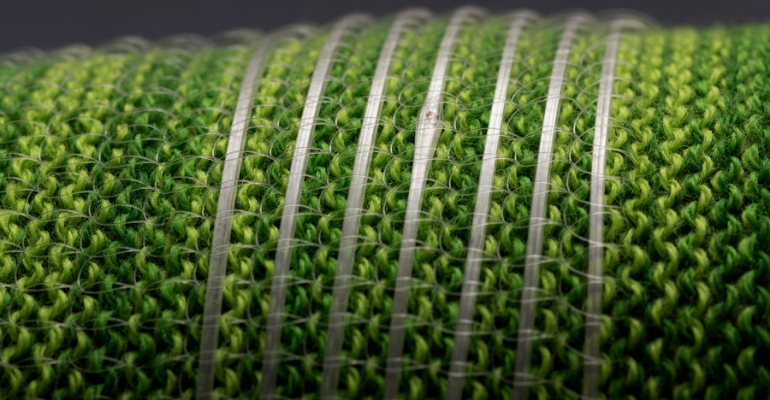 The fiber also takes a few steps forward into artificial intelligence by including, within the fiber memory, a neural network of 1,650 connections. After sewing it around the armpit of a shirt, the researchers used the fiber to collect 270 minutes of surface body temperature data from a person wearing the shirt, and analyze how these data corresponded to different physical activities. Trained on these data, the fiber was able to determine with 96% accuracy what activity the person wearing it was engaged in.
Adding an AI component to the fiber further increases its possibilities, the researchers say. Fabrics with digital components can collect a lot of information across the body over time, and these "lush data" are perfect for machine learning algorithms, said Gabriel Loke, a PhD student at MIT and one of the lead authors on the paper.
With this analytic power, the fibers someday could sense and alert people in real-time to health changes like a respiratory decline or an irregular heartbeat, or deliver muscle activation or heart rate data to athletes during training.
The fiber is controlled by a small external device, so the next step will be to design a new chip as a microcontroller that can be connected within the fiber itself.
Article source: MDDI Online