A Wearable Vein Dilation Device Wins Breakthrough Designation
When Tej Singh, MD, became a vascular surgeon and began performing arteriovenous fistula procedures to prepare patients for dialysis, he noticed that their veins just weren't getting large enough. Seeing no better vein dilation option, he decided to invent one.
Singh's company, Fist Assist Devices, now has breakthrough device designation from FDA for its Fist Assist Model FA-1 device to be used as a vein dilation solution for patients who need dialysis. The wearable already has 510(k) clearance as a pneumatic compression device for arm massage and increased vein circulation in the United States, and is sold outside the United States (India, Europe, Australia, and New Zealand) as a vein dilation device. It's designed to be worn on the patient's arm and runs on batteries. The device consists of a balloon and is designed to inflate and deflate to enhance the size of the user's veins.
"Globally it's vein dilation. In America, the FDA wants us to call it a massager to increase arm circulation, which most people know means making veins bigger," Singh told MD+DI in a recent interview.
Fist Assist plans to launch a four-month equity crowdfunding campaign beginning May 1, through a partnership with KorConX, targeting up to $2.5 million. If successful, Singh said 90% of that $2.5 million would be invested into sales marketing efforts.
To date the company has not raised any venture capital. Singh said the company has been funded completely with angel investments and has "no major debt."
The rest of the interview is below, edited for clarity and length.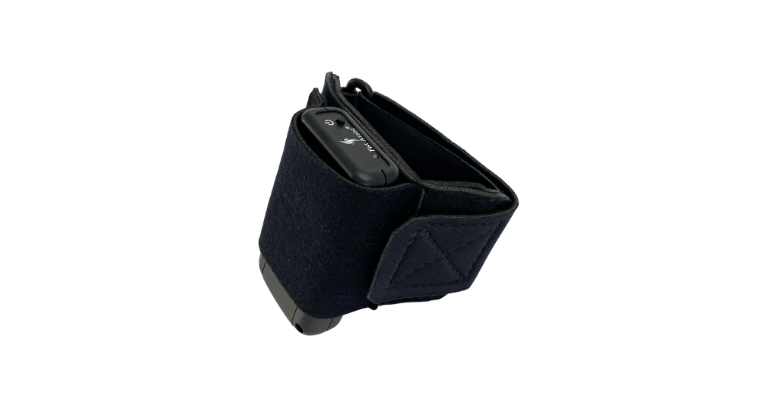 MD+DI: What was your inspiration for the device? You said you were in Med school when you when you invented the device so I imagine it was in in reaction to an unmet need of some sort?
Singh: I was really lucky at the University of Chicago as a medical student, and even as an undergraduate, to start getting exposure to connecting arteries and veins in the research lab. As I was connecting these arteries and veins we were trying to make the arteries bigger and understand why the arteries got bigger. I started seeing that the veins were getting bigger, and vein research wasn't something really popular.
When I finished my training at Stanford in general vascular surgery and went into practice, I started doing fistulas on peoples arms to make their veins bigger for dialysis and they were never getting big enough. So then I said, 'We've got to make veins bigger.'
That's when I went back to my research. I went to the medical device world and nobody – Amanda, nobody – had any interest in arm veins. But if you think about it, they are so important for healthcare.
MD+DI: Especially, as you said, people on dialysis, right? I mean, that seems like a pretty critical need.
Singh: Critical. We were luckily able to get the breakthrough designation by FDA saying that we are treating with a novel device a life-threatening condition like renal failure, and [the agency said], 'Your trials have shown that your device could be considered a breakthrough.'
We are just waiting for some final FDA clarity about what we need to do, and we will probably be submitting the formal application for vein dilation to help renal failure patients [prepare for dialysis] this year.
MD+DI: Great. You mentioned that you've done some trial work that led to this breakthrough designation. What kind of learnings did you gather through that trial?
Singh: We started a three-center global trial called the FACT trial (Fist Assist Clinical Trial). The FACT trial started out at the University of Chicago, we added a site in Mississippi, then we added a site in India. We basically had [close to 50] patients wear our device for three months before they needed any fistula work, so we chose renal failure patients. And what we showed was there was significant enlargement if patients wore our device by an average of about 0.4 millimeters to even greater to get their veins large so that they could get a fistula. … If you take someone whose veins are maybe 1.6 millimeters and you get it up to say 2.2 millimeters or 2.3 millimeters, they can get a fistula instead of living on a catheter, or living with not getting a fistula.
So the trial was very positive, it led to our breakthrough designation, but at the same time our device doesn't just want be a dialysis device. There are many patients who have needs for chemotherapy, for example. Many women who have had one mastectomy done on one side can't use their arms for veins for blood draw or infusion on that arm so they have to go to the other arm. …We think we have the world's first at-home physical therapy device for arm vein health.
MD+DI: Great. So, how often and for how long do patients have to wear the device before they would be ready for dialysis?
Singh: People wear it for one hour or two hours in the morning and two hours in the afteroon. So four hours per day. If you wear it for one hour in the morning and one hour in the afternoon you're probably getting the benefits, because the real benefit of this device is that while it's adjusting the wall shear stress, the wall tensile stress, it's really changing the nitric oxide in the veins, and that's helping the veins get bigger.
MD+DI: That makes sense. It seems so simple, and as with most things like this the question is, why didn't anyone think of it sooner?
MD+DI: That makes sense. It seems so simple, and as with most things like this the question is, why didn't anyone think of it sooner?
MD+DI: Gotcha. What are your next steps after you get through the FDA process? Are you looking to further develop the device? Or maybe develop other similar devices? Will it be a platform technology or is it going to stand alone?
Singh: So, the company itself is at a really important juncture right now. Just to clarify, we do have the 510(K) clearance [for the massage indication]. And we are now launching that with a [U.S. distribution] partnership with Airos Medical, they're out of the Philadelphia area, in addition to some other international distribution partners, and we have a website where people can buy it. The hope, as we figure out the device's trajectory, is to add new technology, maybe a Bluetooth component. … to eventually make this a [reimbursable] device for Medicare so that any patient in America that feels they need their veins to be enlarged before dialysis can get the device. Right now it's a direct-to-consumer device, non-prescription, $249 purchase, and you can have in your own home an arm vein physical therapy device.
MD+DI: Great. I can definitely see the need for something like this in the marketplace, I have a lot of friends who, unfortunately, are on dialysis, or have been in the past – I actually lost a friend last year who had kidney disease – so I can see the need for it for sure. What kind of reaction have you received from your medical colleagues in the field?
Singh: We started a global path for this device in 2018 … and we probably showed the device at over 20-25 conferences globally. It's amazing. You've already kicked it off by saying the most common thing doctors say, "Why didn't I think of this?" Nurses all have stories. Family members all have stories. … They all want their patients to not have to struggle with blood draws [or dialysis] … There's a hope component to this device. Just think about the 120,000 American women today who had a mastectomy in 2021, they are not going to be able to use their arm [on the mastectomy side] if they need chemotherapy [or] blood draws.
Article source: Qmed and MD+DI