5 Pharma Trends and Their Impact on Packaging
The pharmaceutical industry is changing at an unprecedented pace. New biological treatments for cancer, and a dramatic rise of widespread diseases such as diabetes, call for new processing and packaging solutions to fulfill the different needs all over the world. Keep your eye on these five main packaging trends for 2020 for the global pharmaceutical market.
1. Production flexibility and output are critical.
While the demand for common medication such as pain killers and prescription drugs like antibiotics is increasing in the so-called pharmerging markets, completely new forms of treatment are appearing in industrialized countries thanks to the access to more complex substances. Ground-breaking changes are occurring in the area of biological therapies — for instance, regarding the treatment of cancer and autoimmune diseases, as well as rare illnesses that only affect a very small group of patients.
Consequently, many global drug manufacturers are currently focusing on the development of new formulations and have outsourced their filling, closing, and packaging operations of legacy products to contract manufacturers, which are often based in the pharmerging markets like China and India. All manufacturers require highly flexible equipment that can adapt to new products and packaging formats quickly.
The main difference? Many new biological developments are produced in ever smaller batches, while traditional contract manufacturers and generic producers are looking to achieve the highest possible output at the lowest possible costs. Other contract manufacturers have specialized in the advanced technologies required for the emerging treatments like gene and cell therapies where many pharmaceutical companies still lack production competence and capacity.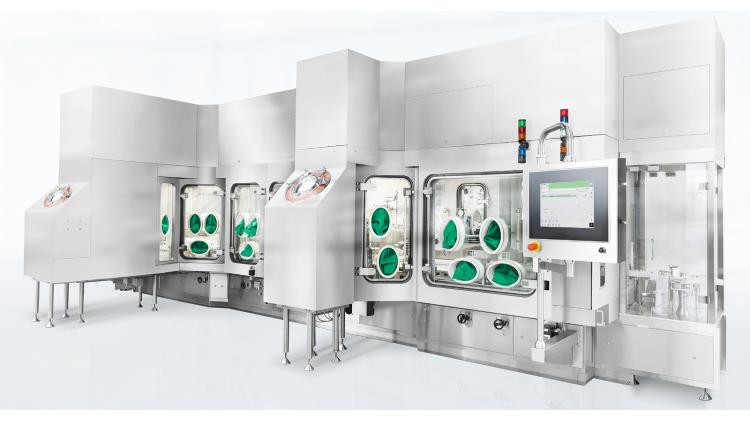 2. Self-medication is on the rise.
Unfortunately, comfortable lifestyles and rising life expectancy has also led to an increasing number of diabetes patients. Thanks to new, targeted therapies and application technologies for insulin administration, however, people suffering from diabetes today have the same life expectancy chance as their peers.
Traditional self-injection devices, such as standard syringes, are frequently being replaced by technologically advanced auto-injectors and insulin pens. This development also stems from the fact that self-injectable medicines are no longer used only for diabetes treatments or growth hormone therapies, but also for the increasing number of other therapies, such as for autoimmune diseases, asthma, and hepatitis C, as well as for emergency drugs, to counter opioid overdoses, for example.
This rapidly changing market demands that drug manufacturers be highly flexible and adapt their approach for this new generation of medication. Although many injector types have similar components, their design varies in terms of size, material, and shape. This is a major challenge, especially for contractors and service providers that produce auto-injectors for pharmaceutical companies worldwide and therefore must assemble a variety of differently shaped auto-injectors. Assembly and filling equipment must allow fast and easy changeovers for any known auto-injector type with the shortest possible downtime.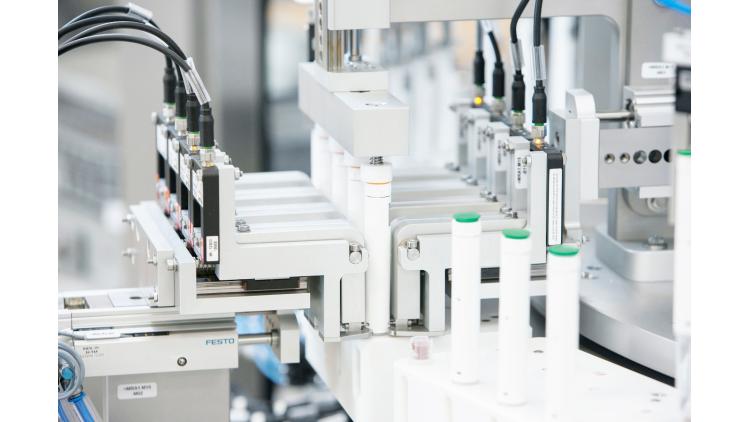 3. Product and patient safety is non-negotiable.
For diabetes patients, easy and safe handling of the pens and auto-injectors is the most important criterion. Insulin manufacturers must pay attention to sterile filling and material integrity to ensure the highest product safety.
Insulin pens, for instance, are loaded with cartridges, which run through a number of process steps before the pens can finally be assembled: They are washed, siliconized, sterilized, filled, and closed, usually in a RABS (Restricted Access Barrier System) or an isolator. During this process, the cartridge is exposed to different temperatures, pressures, and movements.
Hence, inspection technology plays a major role in ensuring product and patient safety. Cameras are used to identify both cosmetic container defects, such as cracks or fractures, and particles within the product. An alternative technology used for particle inspection in clear solutions is the static division (SD) technology, which derives its name from the ability to differentiate static from moving objects by transmitting light through the solution.
After inspection, the pens are assembled. This equipment again requires a high flexibility in terms of handling different types of devices. Today, more and more manufacturers are producing for different markets on the same machine and are looking for highly flexible equipment in the medium output range with a compact design, a clear overview of all stations and good accessibility for easy cleaning and fast format changes.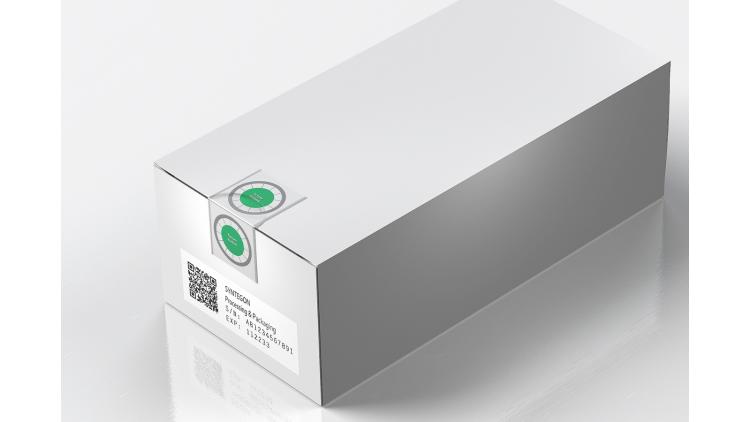 4. Serialization is just the first step towards "digital pharma."
Another important safety issue is serialization. Numerous laws and guidelines have already come into force all over the world to protect consumers from the threats of counterfeit drugs. At the same time, serialization can also be seen as the first step towards digitization in the pharmaceutical industry. Manufacturers and contract packers are facing the challenge of selecting and implementing appropriate serialization technologies and connecting them with their production and packaging processes. The safest option undoubtedly consists in a scalable machine and software concept that can also be adapted to regulatory changes worldwide.
Apart from serializing the smallest sealable unit (that is, cartons or bottles), solutions are also required for the aggregation of products at different packaging levels, such as bundles, cases, or pallets. To control both operating condition and data at any time, the connection between the physical machine level and the control software must be integrated across many stages of the company Information Technology (IT). Data connection between all lines makes it possible to monitor them all from one central spot, even if the lines are situated at different locations.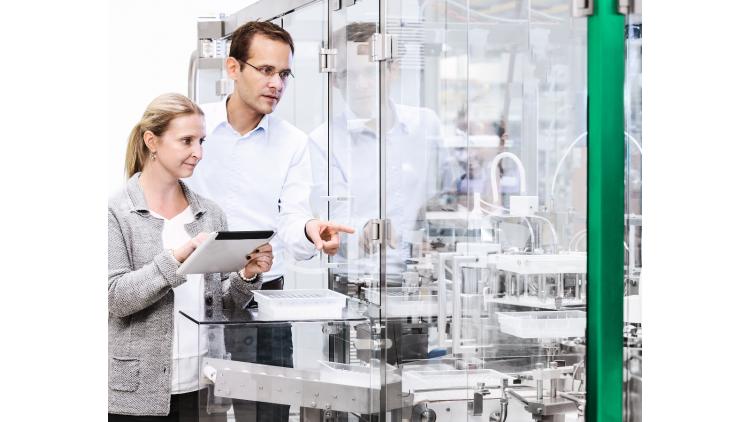 5. Digital services help optimize processes.
This is essentially what digitization is all about: making machines and services smarter, making data available centrally from across the globe, and using it to optimize processes, make them more transparent and more efficient.
The first step consists in visualizing the existing data, for instance on overall equipment effectiveness (OEE), plant status, processes, or important events like alarms or downtimes simply and in real time.
In the next step, data mining can help to identify completely new potential for higher production transparency and optimization.
Further digital services — such as preventive, and in the future even predictive, maintenance or virtual reality (VR) trainings — lead to significant time savings and process improvements. Using special VR glasses, operators can practice part changeovers and expand their machine knowledge without great effort. Since VR trainings are no longer tied to fixed times or locations, they are especially suited for the globalized pharmaceutical industry.