3 Medical Packaging Advances from BD
BD (Becton, Dickinson and Co.) is wrapping up 2021 with two additions to the pharmaceutical packaging industry, both of which aim to protect and ease the delivery of biologic combination products.
he first is a plunger stopper (see photo below) designed for use with a 1 milliliter (mL) prefilled syringe for injecting biologics into subcutaneous tissue. Designed in partnership with Aptar Pharma, the BD SCF PremiumCoat plunger stopper limits drug component interactions and reduces the risk of contamination. The stopper also aids self-administration of high-viscous formulations by reducing glide force and glide force variability.
Related: BD Taps Contract Packager for COVID-19 Test Kits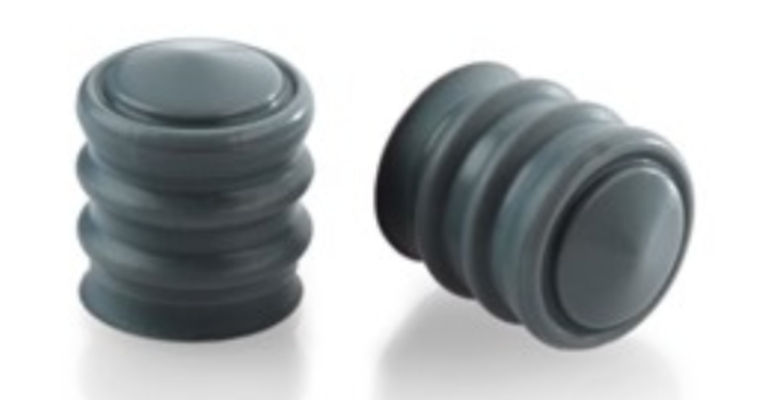 The second addition to BD's portfolio of drug delivery systems is the UltraSafe Plus 2.25mL passive needle guard (see photo below). When combined with a glass prefillable syringe (PFS), the system enables subcutaneous delivery of biologic solutions with fill volumes up to 2mL and viscosities up to 30 centipoise (cP).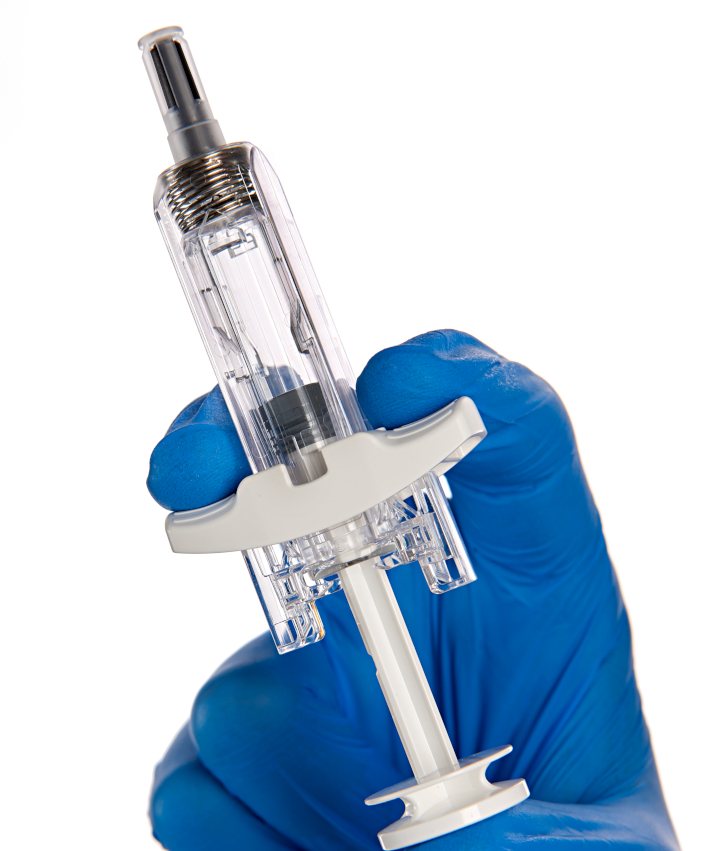 Like the plunger stopper, the passive needle guard addresses the challenge of self-administering viscous biologic therapies, namely the force required to inject these drugs. In a human factors validation study, the majority of participants felt confident that the activated safety mechanism would protect them from needlestick injuries.
BD confirms cold-chain performance of glass packaging.
In addition to its product launches, BD completed a study investigating the performance of glass PFS in deep cold storage. The study began in 2020 in response to deep cold storage requirements for mRNA COVID-19 vaccines.
New vaccine formulations, including those for mRNA, require colder storage for longer time periods than traditional formulations to ensure potency and a target shelf life of 12 to 24 months. However, these lower temperatures can cause phase transition, thermal shock, and changes in container dimensions. This, in turn, could compromise the delivery system's performance and container closure integrity.
The study tested glass PFS systems (see photo at top of page) approved for cold storage of Medimmune's Flumist/Fluenz nasal flu vaccine, which has a 20-week shelf life at -25ºC. The tests used water in place of drug products and were conducted on a variety of syringe coatings, formats, and designs at -20ºC and -40ºC.
"Generally, accelerated aging is performed on our products by increasing the storage temperature to speed up aging on material, mechanical, and other interfacial factors," says BD spokesperson Trey Hollern. "However, in this case, we did the opposite and slowed down aging by decreasing the temperature to support thermal transitions of our container."
According to Hollern, the study's main objective was to understand the risk to the container due to thermal transition. As such, BD considered a one-week, real-time study reliable for evaluating risk and advancing customers' PFS needs in a timely manner.
The study showed no changes in system levels, container closure integrity, and sub-visible particle counts when compared to prefillable syringes stored at room temperature. As a result, BD concluded that glass barrel PFS systems are suitable for products that require storage temperatures of -20ºC and -40ºC.
Study results were presented at the 2021 PDA Universe of Pre-Filled Syringes and Injection Devices Conference on October 6.
Article source: Packaging Digest