Implementing Automated Systems in Medical Manufacturing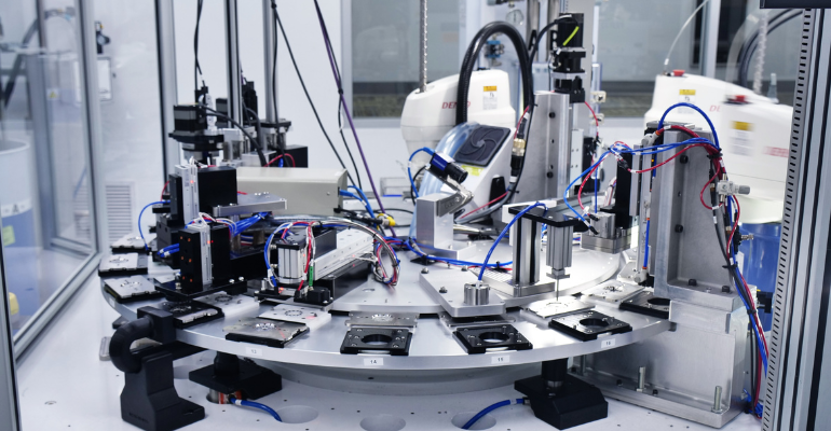 Trelleborg discusses the potential benefits, suitable applications, and the development process of automated systems.
A combination of advancing technology, shortages of skilled workers, and the need to make effective use of available employees is driving automation in medical manufacturing. According to an article by The Hartman Team, US manufacturing today has over two million unfilled jobs and those employers who fail to act now will face greater problems in the future. However, automated systems are complex and deciding where and how to apply them requires a complete understanding of the intricacies involved in equipment development and qualifications.                                                                        
Addressing popular misconceptions
The prevailing perception is that automation eliminates jobs. However, automation aims to assist with tasks or allow redeployment of human labor to other areas. Rather than simplistic, repetitive tasks, employees can focus on jobs that require critical thinking and attention to detail, such as quality inspection. With automation, laborers fulfill roles that are safer, more interesting, and less physically taxing.
The benefits of automation include decreased production times and increased productivity in a world where customers expect quick turnaround times. Production can also be simplified and kept uniform allowing for more precise equipment quantification.
Automation also provides consistency by eliminating the potential for human error and injury. For example, overmolding requires force to seat the first shot properly, leading to operator strain and discomfort over time. Variability increases with personnel changes as operators may execute the same task differently. Additionally, if an operator becomes less focused on correct techniques and safety measures due to the repetitive nature of the task, the risk of human error resulting in injury and quality issues increases.
When designed and programmed correctly, machines are essentially perfect in that they are free from human error and inconsistencies. Automation helps manage large and unexpected spikes in customer demand, creating a stable baseline operation that is scalable enough to weather demand peaks.
Identifying opportunities for automation
Evaluating returns on investment helps companies decide where and when to deploy automation. An automation engineer analyzes the parts and procedures involved in production. A part's geometry evaluated through CAD drawings is a primary consideration. Later in the process, 3D-printed models can show engineers how a part will move through the production process and the type of quality inspections needed. Production volume, including the number of parts planned and when they are required, is also a consideration. Programs running large volumes across multiple product lines will generate returns sooner.
Processing requirements are another major consideration. Some parts may enter processing directly after production, while others must be packaged at another location. To successfully evaluate all these fundamental considerations and their implications, manufacturing engineers must collaborate with customer design teams from the outset.
Making the investment
An automated system supplier's primary goal should be to yield results precisely in line with client expectations. Working with the customer they must determine how much money should be invested in automation in order to keep the overall part price as low as possible.
Highly customized automated applications generally require the client to participate in the development investment, if not take it on entirely. The development costs of automated processes for more general tasks that apply to multiple programs and parts and/or used for multiple clients are more likely to see high investment from the supplier.
In some cases, automation may not be suitable, for example, when the profile and geometry of a part are particularly complex and require highly customized machinery. Automation may also be ill-suited for a manufacturer intending to make parts in low volumes.
Deploying automation with Trelleborg
When original equipment manufacturers (OEMs) partner with a supplier using automation, they will usually gain access to several services. These include design reviews, 3D renderings of proposed designs, automation cells, and in-house tool shops that machine custom components for the application. This relationship between OEMs and component suppliers also allows for in-house access to companies that specialize in industrial controls.
An example of a custom automation cell deployed by Trelleborg utilizes a Fanuc LR Mate Robot to remove parts from the press and perform complex processing procedures. This machine uses a custom end-effector to move unmolded scope lenses through an air-based cooling cycle to a device that applies an anti-fog coating in a spray form.
After a brief rest period, the coating is cured with ultraviolet light before it is set aside for a secondary, longer cooling interval. Finally, the lenses undergo quality inspection to ensure that coatings have been appropriately applied. While operators are relieved of this repetitive, sometimes demanding task, the automated cell allows for precision, accuracy, and speed beyond human physical capabilities.
A new kind of co-worker
Trelleborg Healthcare & Medical strives to provide clients with the best automation solutions to update, streamline, and improve their production processes. One technology Trelleborg utilizes today is collaborative robotics or cobots. Unlike traditional robots, cobots work closely with humans.
With rapid development and increased adoption, cobots' collaboration with human operators has been enabled by extensive safety and detection measures, including static, impact, and overload detection. These measures enable the cobots to assist humans with the same task and share a workspace that an industrial robot could not. The cobots are also free from human error, save space compared to traditional industrial robots and help limit operational costs.
The future feels robotic
The fourth industrial revolution, based on the increasing digitalization of production, is seeing robotics and automation prove their worth, supported by the rapid advancement of artificial intelligence and increasing adoption of internet-of-things systems in industrial settings. Trelleborg already deploys an AI-supported, high-end visioning system to detect part variability and ensure that parts pass quality inspection. This is a prime example of how AI applications may significantly benefit high volume production operations, where their speed enables increased output while allowing for human labor to take on more appropriate tasks.
Conclusion
Automation enables human operators to focus on jobs that require greater skill, expertise, and attention to detail. It can decrease production times and increase productivity, create consistency, prevent injuries, and help manage demand spikes. There are many scenarios in medical manufacturing where the case for automation is already indisputable, and the trend toward automation will only increase. A knowledgeable supplier effectively using automation can help clients make informed decisions about automation and partner with them for implementation.