Flexible Films for Medical Devices and Packaging—A Medtech Makers Q&A
Packaging for medical devices must accomplish a number of tasks. First, it must protect the device within from damage during transportation to the end user. It must also ensure the sterile barrier remains intact so as to prevent the chance of infection from outside particles entering the container. The selected sterilization modality must also be able to be effectively delivered to further protect against infection. There may be a number of other goals medical device packaging is expected to achieve.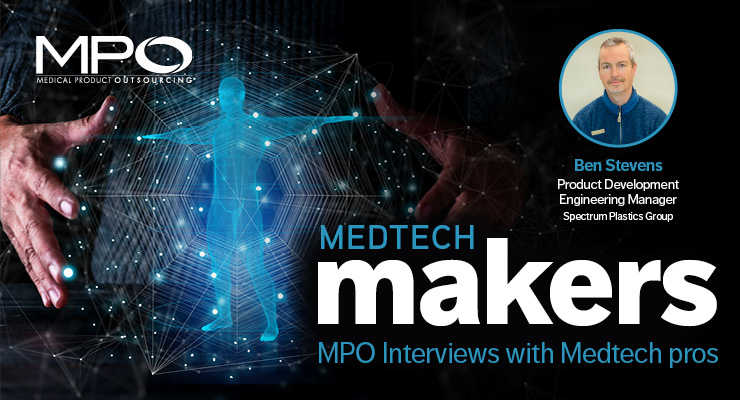 While there are a multitude of options in terms of packaging, flexible films and forming webs are two components that offer an array of advantages for medical device manufacturers. How, where, why, and when they are used, however, may be unclear to product developers who might be focused on the device function rather than the packaging around it.
 
To assist with any confusion and to provide further insight on films and forming webs, Ben Stevens, product development engineering manager at Spectrum Plastics Group, took time to address a number of questions. In the following Q&A, Stevens explains what films and forming webs are, how they are used in medical device packaging, and what advantages they provide.
 
Sean Fenske: Can you explain what flexible films are with regard to medical device packaging?
 
Ben Stevens: Flexible films are critical components to ensuring safe delivery of medical devices to the end user. Films offer a wide range of benefits, from lining a corrugate packaging to producing a hermetically sealed container that creates a barrier in warehouse and transportation environments. Paired with other breathable materials, films create packages ready for a multitude of sterilization types. These films can be customized to create critical-to-quality delivery systems (e.g., oxygen and water barrier characteristics, flexibility, puncture resistance, and clarity).
 
Fenske: Within the world of flexible packaging, what are forming webs?
 
Stevens: Forming webs create the bottom portion of a flexible package. These webs must ensure toughness, clarity, and barrier properties, all while offering the ability to be formed to a custom shape and depth for the contents of the tray. As these webs get formed, they thin down to the contour of the formed shape, and must be designed to maintain puncture strength and flexibility at very thin thicknesses. Another component to forming webs is the ability to seal to a top web that completes the container. Spectrum has created options for forming webs with different chemistries that can meet the toughest applications. Spectrum has also worked closely with a leader in forming machines to develop all of their forming webs.
 
Fenske: How and why are forming webs used? What advantages do they offer?
 
Stevens: Forming webs allow manufacturers to pack kits in-line on form, fill, and seal machines. They offer manufacturers the ability to minimize operations to get these medical kits to the end user quickly and efficiently. Formed packages are great for multiple small components that create a kit used for a specific procedure. They ensure kits stay together as a whole, while maintaining sterility.
 
Fenske: What types of materials are used for forming webs?
 
Stevens: These webs can be produced with a variety of different types of resins. Spectrum utilizes many base materials for its forming webs, which offer excellent formability and toughness while protecting against the rigors of shipping and handling. Spectrum also offers solutions for custom applications if needed.
 
Fenske: What are the critical or quality aspects to a forming web? And why is this important for OEMs?
 
Stevens: Customers often have their own list of critical aspects to the forming webs they require. In general, we see puncture strength as a major quality requirement needed in forming webs. Puncture strength needs to be maintained at gauges well under one mil. in many applications. Other critical features include stiffness of the film, formability of the film, and sealability to various top webs. Gauge consistency needs to be considered, as too much variation in gauge can cause thin spots when formed, which can create a weak spot in the formed packages. All of these properties are critical to the OEMs with regards to the processability of the webs and the ability of the webs to maintain validated processes. Of paramount importance is the ability of the film to maintain a sterile barrier for the contents of the formed pouch.
 
Fenske: What should be used to ensure a quality seal for forming web technology?
 
Stevens: In one word—repeatability. The film needs to be consistent to ensure a quality seal to the top web. This includes consistent materials and processing. Spectrum goes to great lengths to ensure we offer consistency in all materials we use, and we process with a high degree of statistical uniformity.
 
Fenske: Is this a mature, well-established technology or is innovation still happening with forming webs?
 
Stevens: Spectrum has produced a market-leading forming web product line for almost two decades, which has been used in a multitude of demanding applications. This traditional offering can be customized to offer slightly different properties to meet OEM requirements. Recently, Spectrum introduced a new forming product line that utilizes different chemistry to create a competitively priced structure that can meet the toughness of the traditional offering. This material can be seamlessly used at "drop-in" processing conditions for market-leading structures
 
Fenske: Sterilization is getting brought up in discussions much more as questions center around EtO and the potential concerns with its use. What sterilization processes can be used with films?
 
Stevens: Spectrum films can be used with EtO sterilization methods as well as Gamma and E-beam. Spectrum's team of materials scientists keeps a close pulse on emerging sterilization methods, and they ensure we develop compatible product solutions.
 
Fenske: Do you have any additional comments you'd like to share based on any of the topics we discussed or something you'd like to tell medical device manufacturers?
 
Stevens: Spectrum is vertically integrated when it comes to our flexible film and packaging capabilities. We are a custom, scalable extruder and converter of flexible medical packaging for sterile and non-sterile applications—meaning we blow and convert our own film all under one roof. We are also a proud authorized converter of DuPont™ Tyvek®. Spectrum looks forward to hearing from customers that need a forming web solution and/or require a custom flexible packaging solution for their application.
Article Source:Medical Product Outsourcing