About Medtec Innovation Forum
The Medtec Innovation Forum is a new event launched by the Medtec China team, specially facing on the innovation development of Medical Device Industry. It aims to provide ideas for global innovation R&D and optimize industrial supply chain resources, thus facilitating the sustained development of the medical device manufacturing industry. The 2023 Medtec Innovation Forum will be held on December 12-13, 2023, at the Shanghai World Expo Exhibition & Convention Center.
Five Highlights of the Medtec Innovation Forum!
Expand the supply chain resources of active medical equipment!
Leveraging the advantages of Medtec China exhibition, it will expand advanced active medical device enterprises with cutting-edge products, technologies, and other innovative medical devices to upgrade the entire industry's supply chain resources.
Exhibit  10 key categories from the perspective of buyer demands !
Under 19 years of sensitiveness and professionalism to industry and purchase requirements , Medtec Innovation Forum will highlight ten key categories to showcase with an emphasis on targeted procurement.
Catch up newest market trend through policy analysis!
Concurrent Sino-foreign  medical device policy and quality forums will help companies keep up with innovative industry trends. A dedicated session for " Professional Refined and Specialized Innovative (PRSI)" is specially organized where these "Little Giant" companies can jointly explore innovative development paths such as "Ride-on" financing.
Explore innovation methods through the lens of multi-dimensional integration!
Concurrent forums with topics across "medicine + industry," "hospital + factory," "doctor + engineer," "regulations + technology," and "market + investment" will facilitate multidimensional medical-engineering collaboration and drive medical equipment research and production, achieving breakthroughs in core technology innovation.
  

Extend diverse forms to grasp the onsite business opportunities!
In order to help Exhibitors to connect the clients proactively, The Medtec Innovation Forum will create various formats including live streaming, themed talk shows, investment roadshows, private business-matching meetings, and innovative product display areas. These ways also offers companies comprehensive platforms to showcase the latest industry innovation outcomes, both online and offline.
Kay Data of Medtec Innovation Forum: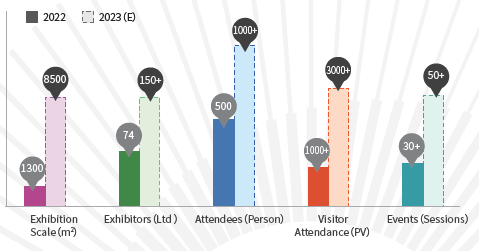 Intentional purchase rate of Visitors :70%+
Top 5 of 2022 Medtec Innovation visitors' purchasing demand
Raw materials and processing technology

Implantable interventional products (active and passive devices, cardiovascular devices, orthopedic devices, etc.)

Manufacturing equipment (Automation equipment, precision processing equipment, testing equipment, etc.)

Upstream suppliers

Component