Intact implants, without compromises – that's our new FixInTube®-rose plaastic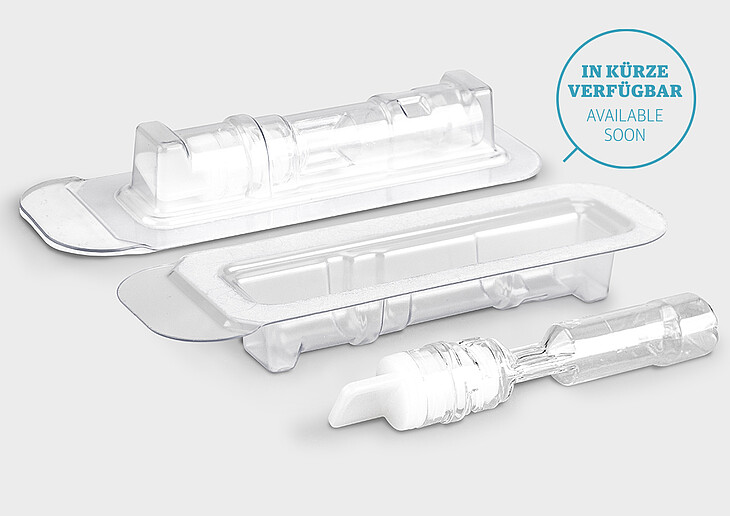 Sensitive implants demand the highest performance from their packaging. The new FixInTube® ensures safety and all-around protection, all the way to the OR.
Sterile and intact implants are essential in the operating room. Sensitive bone screws in particular must arrive safely. Damage caused by long transport routes and rough handling, or abrasion inside the package causing implant contamination, must be avoided. Only if the packaging resists all these challenges can the implant fulfill its purpose. No problem for our new FixInTube® packaging!
Firm hold and minimal contact
Together with the inner geometry of the tube, the closure ensures a secure fixation of the implant. No matter how long or difficult the journey to the operating room takes, FixInTube® reliably protects delicate implants from abrasion, damage, and contamination. In the operating room, everything happens very quickly: A twist opens the lock and thus provides access to the implant. It can now be removed using an extraction tool without contacting the packaging.
The highly transparent tube made of clear PETG, clearly shows what is inside. Screw threads from diameter 2.0 to 8.0 mm and lengths from 40 to 160 mm are perfectly secured in the practical individual packaging. The FixInTube® is manufactured in ISO Class 8 clean room production and only medical grade materials are used.
Choose your sterile barrier, or let us help!
In combination with an additional blister and Tyvek® lid, or a sterilization pouch, the tube can also be used in sterile barrier applications. If required, you can order a sterile barrier blister from rose; we have already tailored the blister made of PETG with Tyvek® lid fit the tubes, reducing your workload!
You don't want to make any more compromises? You want to package your implants safely? We look forward to hearing from you.