Ulbrich Expands Braid Wire Accelerator to Fast Track Medical Device Development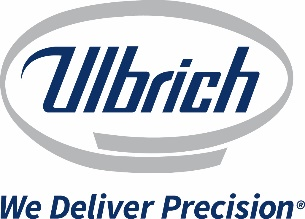 Westminster, SC – When sourcing materials for the manufacturing of critical medical devices, speed is everything. The faster you can procure desired materials, the sooner you can start testing engineered applications. And the quicker you begin iterating, the greater the chance your solution beats your competitors to market.
Unfortunately, the supply chain rarely supports the speed needed to jump-start R&D and get to final designs faster. It's also critical to note that device manufacturers can't sacrifice quality to speed up sourcing. If the material doesn't consistently meet the properties required for peak braiding performance, it doesn't matter how fast it arrives at your facility.
That's why Ulbrich Specialty Wire Products (USWP) is proud to announce a significant expansion to its Braid Wire Accelerator® Program, an e-commerce solution that rapidly delivers round & flat wire materials for critical manufacturing needs. With just a few clicks, customers can see alloys in stock, select the best material for their equipment and applications, and add these products to their cart.
After a successful launch in North America, this innovative procurement tool is now available in globally.
USWP has expanded the support staff into the Ulbrich Stainless Steels & Special Metals Shanghai Sales office and has been supporting the Asian medical device market for the past two years.
Ulbrich's Braid Wire Accelerator includes the precision wire used by medical device manufacturers for braiding applications such as stents, catheters, cannula, and other medical devices. Alloys offered include everything from 304v stainless steel to special metals like shape-memory nitinol and high-strength tungsten.
USWP has expanded its capabilities with two new wire solutions — flat tungsten wire and higher-aspect-ratio flat wire. Both the new alloy and capability will be available within the Braid Wire Accelerator® Program.
Flat tungsten wire is resistant to heat and corrosion while offering unmatched mechanical strength-to-thickness ratios. Its density and high atomic number make it a highly radiopaque material, well suited for medical applications where it is necessary to block x-rays or other forms of radiation.
Higher aspect ratio flat wires unlock design limitations by allowing manufacturers to achieve improved strength, flexibility, and geometric profile combinations. There will no longer be a need to limit flat wire width/thickness ratios to 10:1.
"These are unique and innovative wire solutions," said Ed Treglia, Vice President/General Manager of Ulbrich Specialty Wire Products.
"Adding tungsten and higher aspect ratios for flats to our wire capabilities will create exciting new possibilities for braid-reinforced catheter and coil design." – Ed Treglia, VP/GM of USWP
Ulbrich has helped industry leaders produce implantable medical devices for decades and are among the most experienced and reputable suppliers of medical braid wire.
When designing the Braid Wire Accelerator®, the engineers at USWP ensured that the program included the most common alloys, in the most common braiding machine configurations, to best serve the market needs of medical producers.
These alloys are included in the Braid Wire Accelerator® Standard program to offer customers speedier delivery times and ensure that the flat and round wire they need reaches their facility as soon as possible. That means less waiting and more building!
For customers that require modifications to meet their spec, USWP offer a Rapid Prototype solution that utilizes semi-finished materials. Modifications may include refinement to the dimensions of standard wire or a tweak to its properties or finish.
While USWP's Rapid Prototype program offers quick lead times and low MOQs, both are slightly longer than the Braid Wire Accelerator® Standard program because of the extra processing needed to meet customers' specific requirements.
Alloys in USWP's Braid Wire Accelerator include:
Stainless Steel Fine Wire
Nitinol
Special Metals
Mp35n
L605
304v, 304lvm, And 316lv
Tungsten Medical Wire
Braid Wire Accelerator customers will avoid tangles with the highest-quality fine wire, crafted to consistently meet specific annealed properties with uniform dimensions.
Ulbrich Specialty Wire Products winds their precision round & flat wire on Steeger bobbins, DIN 100, coil winding spools, or other standard spools. They also offer parallel, multi-ended wire when greater braid density is required.
To learn more about Ulbrich's Braid Wire Accelerator® Program, visit https://www.ulbrich.com/braid-wire-accelerator-program/
###
About Ulbrich Specialty Wire Products
Ulbrich Specialty Wire Products, located in Westminster, South Carolina, is equipped for rolling, drawing, annealing, straightening, and precision winding of various round, flat and square wire products. Our expertise and state-of-the-art equipment allow us to meet the precision requirements of innovative manufacturers of medical devices, high-performance cables, and more.
About Ryan McFarland
Ryan McFarland is the Medical Product Manager at Ulbrich Specialty Wire Products division since 2015. As a way of background, he earned his BS in Mechanical Engineering at Drexel University and MBA at Saint Joseph's University. Ryan has been involved in the medical industry for over 20 years.
As the Medical Product Manager, Ryan is responsible for helping to set the product line strategy for the Medical Wire Product, implementing the strategy to Sales, coordinating with Marketing for different campaigns, helping to drive new product development in the product line, all on a Global platform. The Medical Wire Product line has grown at a double-digit rate for years and even more aggressively over the past several years. Several successful NPI projects including Nitinol wire and medical mandrel wires have been implemented during Ryan's tenure.