New Flexible Coronary Artery Implant Enables Vessel Motion
While stents are a vital part of cardiac care, they can also carry risks. A new study conducted by Dr. Mladen Vidovich with the University of Illinois, Chicago found the company's device, the DynamX Coronary Bioadaptor System, can address localized rigidity due to the implant. Rigidity or "caging" is common after traditional stent placement and is thought to lead to continuing cardiac risk. Elixir's drug-eluting implant can potentially restore near-natural vessel movement.
Flexible vs inflexible stents
Drug-eluting stents are commonly made of materials which are rigid and limit movement of the cardiac vessel when placed in the heart. This limitation can lead to breakage in stents or additional coronary artery disease issues, as well as straightening of the vessel, a risk factor in major adverse cardiac events.
Traditional "caged" stents are thought to increase risk over years proceeding placement by as much as 50% at 10 years, according to the ISAR-TEST trial cited by Elixir. The DynamX Bioadaptor can potentially alleviate these risks by restoring natural rotation and flexion in the vessel, thereby reducing stress on the vessel and surrounding structures.
"The DynamX mechanistic clinical study previously showed that the bioadaptor enabled positive adaptive remodeling, preserving the vessel lumen to accommodate disease progression, as well as a return toward baseline vessel angulation and a strong safety profile," said Mladen I. Vidovich, MD, at the University of Illinois, Chicago, and co-investigator for the current study. "This recent analysis now demonstrates the ability of the device to twist along with the vessel's natural motion, and in doing so, subsequently reduce vessel stress. These are exciting characteristics that have the potential to improve patient outcomes."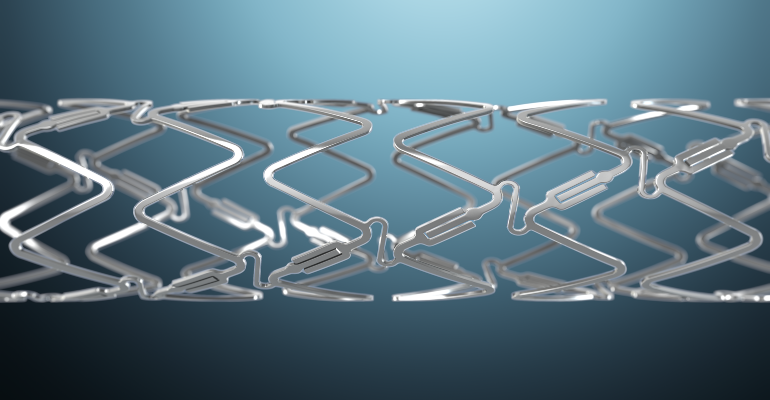 Study setup and findings
According to the company's recent study, published in Cardiovascular Revascularization Medicine, after a 6-month "uncaging" healing period, DynamX Bioadaptor, can reduce up to 70% of the peak implant stress. This allows the vessel to remodel after surgery and retain a degree of its natural pulsing, vasomotion, stretching, twisting, and other movements that the body utilizes to adapt blood flow during the cardiac cycle.
Portions of vessels treated with Elixir's device "had significantly more rotational motion when uncaged," according to the published article. Research included 20 patients who were monitored for 9 months to 12 months after implantation. Computational modeling was utilized to calculate implant stress. Elixir's device has been awarded CE mark but is not cleared or approved by FDA.
Article source: MDDI