Medtronic Wants to Ease Your Pain with Closed-Loop Implantable
The first patient has been enrolled in a clinical study of a Medtronic closed-loop, implantable neurostimulator. The study, being conducted in Australia, aims to characterize the efficacy of the company's recharageable neurostimulator for the treatment of overall pain in patients with back and limb pain.
Medtronic said the closed-loop feature uses the spinal cord's physiological response to stimulation, known as an evoked compound action potential (ECAP), to automatically deliver a consistent therapeutic dose at the precise moment it is needed. The closed-loop neurostimulator is investigational in Australia and not approved for sale or distribution. It is not approved or cleared for commercial use in the United States either.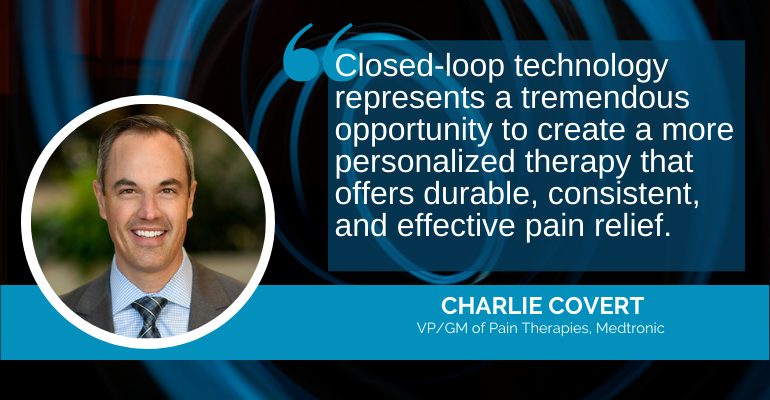 ECAPs are signals generated by the spinal cord in response to an electrical stimulus. They are a direct measure of how many nerve fibers are activated in the spinal cord and provide a metric that can be used to inform real-time, patient-specific control of spinal cord stimulation (SCS) therapy, Medtronic noted.
"As SCS patients go about their daily lives, their dosage needs vary," said Vahid Mohabbati, MD, director of the Sydney Pain Research Centre in Sydney, Australia, and the first physician to implant a patient with the device for the study. "Maintaining the right intensity of stimulation is essential for treating patients with spinal cord stimulation. It is our hope that the closed-loop feature will enable more personalized and real-time stimulation adjustments that reduce pain while minimizing variances that fall outside of the optimal therapeutic dose."
Enrolling up to 90 patients across 10 centers in Australia, Medtronic said the prospective, randomized, feasibility study will evaluate the long-term performance of the closed-loop algorithm and overall patient experience with the device. Following device implant and optimization, patients will be randomized to a sequence of "closed-loop on" and "closed-loop off" for in-clinic testing. They will then continue being followed for a total study duration of up to 24 months.
Medtronic said the study is independent of its submission to FDA for approval of the closed-loop rechargeable neurostimulator.
"Closed-loop technology represents a tremendous opportunity to create a more personalized therapy that offers durable, consistent, and effective pain relief," said Charlie Covert, vice president and general manager of the pain therapies business at Medtronic.
Article source: Qmed