Miniaturization Is No Small Feat
Miniaturization has truly transformed two categories of medical devices: cardiovascular and insulin delivery devices. For instance, "a heart support pump wouldn't be possible without miniaturization of motor technology and an increase of power density—the power that is needed is significant," explained Carsten Horn, application engineering manager, and Peter van Beek, medical business development manager, both with maxon.
Miniaturization is further revolutionizing other medtech categories such as surgical devices, driven by surgical robotics and surgical hand tool makers. maxon recently provided a hollow-shafted motor for a surgical hand tool that allowed the waste stream of saline and debris to travel through the motor, thus allowing the entire handheld tool to be smaller in diameter and more ergonomic. "Unlike in-body applications, surgical hand tools require repeated sterilization between procedures via a multi-step cleaning process: manual cleaning with caustic chemistry, ultrasound, medical device 'dishwasher,' and finally autoclave," van Beek said. He also described new surgical power tool packages consisting of one drive assembly plus many different attachment heads. "Transforming a single motor assembly into multiple tools was required for a specific surgical procedure. All attachment heads are snap-on and interchangeable and contain all required gearing and mechanics and an ID that dictates certain speed and torque characteristics for that head. This eliminates a collection of different tools in the surgical room but provides any required tool the surgeon needs for a particular procedure," he explained.
As a global provider of servo drives, drive electronics, mechatronic sub-assemblies, and contract manufacturing, maxon boasts an impressive catalogue of base components for multiple applications, but when it comes to medtech miniaturization, the company typically works collaboratively with innovators to codesign. "Our catalog components offer a base, but for miniaturization, off-the-shelf components are not possible anymore. As always maxon provides these complex drive systems with high precision and quality, ultra-power density, and reduced weight," said Horn.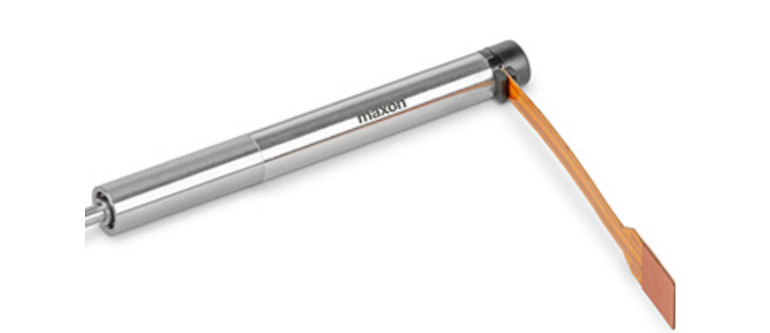 maxon's brushless ECX 4-mm motor, designed for use in medical applications, is available in medium and long versions and can reach speeds of up to 50,000 rpm. It can be combined with an encoder and the GPX 4 ceramic gearhead available as two-, three-, or four-stage versions.
For such miniaturized devices, "there often isn't enough space for all the mechanical, electrical, and optical interfaces," Horn said. To combine functionality in a smaller footprint, multiple interfaces (such as cabling, sensors, and gearing) can be integrated. "We can take responsibility for the interfaces and eliminate them and associated parts, effectively making the entire drive train more compact." For instance, "if the device utilizes a catalog motor plus gear arrangement aligned axially (think of a pencil), the gearbox can also be repositioned next or parallel to the motor to reduce its length in a miniaturized version," Horn explained. In this scenario, "We aren't just supplying a component—we are contract manufacturing subassemblies from the components," added van Beek.
Medtech is very competitive and rife with patents, so van Beek said maxon works collaboratively with innovators on new device development. "They come to us with a general concept and we flesh it out together," he said. "It is up to the customer to confirm that patents are not infringed, and maxon only wants to be directed as to what can be designed.
"We always look at technology and how to push the limits," van Beek continued. "Manners in which maxon is pushing limits include sterilization, compactness of design, physical size of base components, and working with end customers to achieve unique designs."
Horn said it can help to follow a "design from the inside out" methodology in which inside components are designed to meet outside requirements. "The tricky part is to transform external requirements from users into internal requirements that enable you to design from the inside out," he said. "To accomplish this, build up strong mathematical models and summarize the requirements and transfer them to internal functions. maxon develops mathematical models and refers to them during the design process at specific design gates."
Technology assessment is also critical, Horn added. "This has impact on tolerances and sizes," he said. He added that prototyping, risk analysis, and prototype testing are also critical steps in miniaturization. "Don't cut corners on testing—it is extremely beneficial in the long run."
In closing, van Beek said that maxon provides catalog, semi-customized, or fully customized drive assemblies. maxon-USA (Taunton, MA) can further transform this drive via Swiss Quality contract manufacturing into a sub-assembly mechanism, which in turn can be placed directly into a larger system. maxon works in close collarboration with our customers, from initial drive selection, thru customization design, qualification requirements, and contract manufacturing.
maxon will be exhibiting at Booth #3241 at Medical Design & Manufacturing (MD&M) West 2022 April 12-14.
Article source: Qmed