Medtronic and Axonics Back for Final Showdown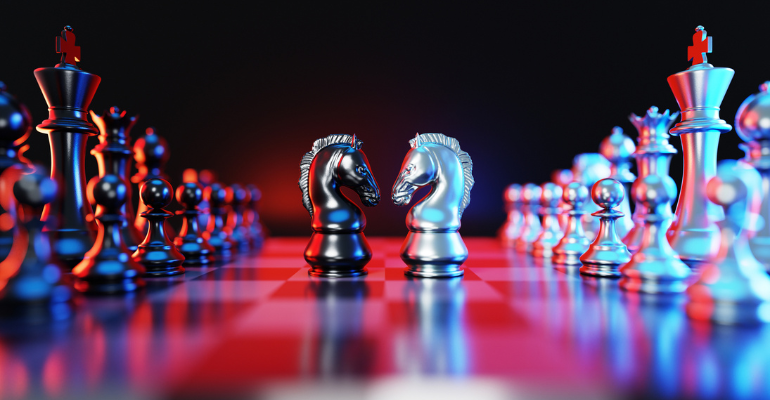 The U.S. Patent Trial and Appeal Board made a mistake in Medtronic's favor last year, a federal judge ruled this week.
The U.S. Court of Appeals awarded another point to the underdogs in a heated patent war between Medtronic and Axonics over competing sacral neuromodulation technologies used to treat various bladder and bowel conditions.
The companies have been going head-to-head over Medtronic's patents in sacral neuromodulation for treating various bladder and bowel conditions since 2019. Last year, the Patent Trial and Appeal Board (PTAB) of the U.S. Patent and Trademark Office rejected Axonics' attempt to invalidate three Medtronic patents in its IP infringement lawsuit.
The PTAB then refused to consider Axonics' new arguments after the board adopted an interpretation of the patents' terms that Medtronic submitted, U.S. Circuit Judge Timothy Dyk wrote on behalf of a three-judge panel earlier this week. The court found that to be a mistake, and now the PTAB must reconsider its decisions that the patents were valid.
The court also reopened Axonics' challenges to two other Medtronic patents at a U.S. Patent and Trademark Office (USPTO) tribunal in July.
What you need to know about the ongoing feud between Medtronic and Axonics
Here are the key points you need to know about this patent battle:
Medtronic pioneered the SNM market more than 20 years ago with its InterStim device, used to treat various bladder and bowel conditions.
Along came Axonics Modulation Technologies with FDA approval in 2019 for a rechargeable version of a similar device.
The market incumbent almost immediately filed a lawsuit against Axonics, alleging infringement on certain claims in seven patents related to Medtronic's SNM lead placement procedure and implant recharging technologies.
Axonics filed seven petitions with the USPTO requesting an inter partes review of each of the Medtronic patents in question.
Medtronic catches up with the market challenger by winning FDA approval of its own rechargeable SNM device.
In September 2020, the PTAB decided to review the validity of six of the seven Medtronic patents in question. However, the PTAB decided not to institute a review of one of the patents — (U.S. Patent No. 9,463,324 ('324 patent) — because there is not a reasonable likelihood that any of the claims in that particular patent would be found to be invalid. According to Medtronic, the '324 patent protects key technology related to implant recharging and temperature control and is central to the infringement case pending against Axonics.
In September 2021, the PTAB upheld three of the patents Axonics challenged.
In February 2022, FDA approved InterStim X, the next generation of the Medtronic's recharge-free device.
In March 22, FDA approved Axonics' recharge-free sacral neuromodulation implantable neurostimulator, called F15.