Philips Adds New 3D ICE to the Electrophysiology Fire
Just as the electrophysiology market is really heating up, Royal Philips has added a new 3D intracardiac echocardiography (ICE) catheter to the mix.
Philips announced the first procedure using its new real-time 3D ICE catheter. The left atrial appendage occlusion (LAAO) procedure was performed at Mayo Clinic in Minneapolis, MN by Mohamad Adnan Alkhouli, MD. Designed to be used with Philips' Premium Cardiology Ultrasound System, the company says its new ICE – VeriSight Pro – offers superior 2D and 3D live image guidance for a wide range of procedures in structural heart disease and electrophysiology, allowing interventionalists to navigate procedures with ease, provide superior care, and optimize cath lab performance.
Live ultrasound imaging during structural heart disease and electrophysiology procedures typically relies on transesophageal echocardiography (TEE) imaging, in which an ultrasound probe is passed down the patient's throat and into their esophagus, until it lies next to the heart. TEE requires the patient to be sedated or given general anesthesia, lengthening preparation, procedure, and recovery times and carrying a degree of risk. Philips' ICE catheter VeriSight Pro uses the same ultrasound technology, miniaturized to fit on the tip of a 1.98mm diameter (9 French) catheter so it can be navigated to the patient's heart via their vasculature — the same route used to introduce other catheters during minimally-invasive heart surgery. General anesthesia is typically not required, reducing patient risk, and opening up procedures to patients who are not good anesthesia candidates.
"Securing the best-possible live images enables interventional cardiologists and electrophysiologists to boost procedure confidence and deliver optimum outcomes for more patients," said Chris Landon, senior vice president and general manager of image guided therapy devices at Philips. "The exceptional 2D and 3D imaging capabilities of Philips intracardiac echocardiology catheter – VeriSight Pro – make it a superb choice for image guidance in interventional procedures, reducing reliance on general anesthesia and the logistical hurdles that go with it."
For interventional cardiologists, VeriSight Pro delivers a good alternative high-quality 3D live image to TEE, including 3D volume and color flow imaging, Philips said. Based on Philips' xMATRIX 3D ultrasound transducer technology, VeriSight Pro can provide a 90-by-90-degree 3D field of view as well as allowing physicians to view two scan planes simultaneously, such as the long and short axes of the left atrial appendage (LAA) to select the appropriately sized device for LAA closure. According to the company, the VeriSight Pro provides superior 2D ICE imaging, as well as the ability to access new views more easily. Interventionalists can digitally change the scan angle to capture views without manually repositioning the ultrasound tip, a unique feature of this ICE catheter.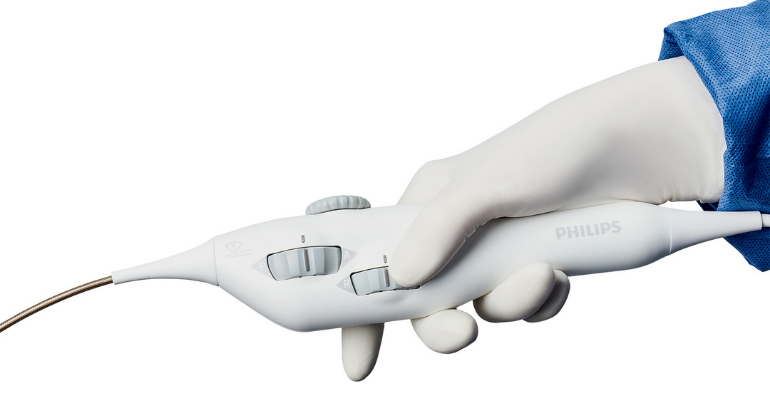 Electrophysiology market heats up
Philips' news of the first procedure using the VeriSight Pro comes at a time when the electrophysiology market is gaining a lot of attention, driven in large part by a rising incidence of atrial fibrillation (AFib). Recent estimates place the EP market above $6 billion and growing in the double-digits.
Boston Scientific has made significant investments in the space, most recently with the acquisition of Farapulse, developer of a pulsed field ablation system designed to ablate heart tissue via the creation of a therapeutic electric field instead of using thermal energy sources such as radiofrequency ablation or cryoablation.
Abbott Laboratories has also beefed up its electrophysiology portfolio. In November 2020, Abbott announced regulatory approvals in Europe (via a CE mark) and Australia for its EnSite X EP System for cardiac mapping.
Medtronic just launched the DEFINE AFib study, the company's first app-based research study. The study aims to address unanswered questions around Afib burden and its impact on patient outcomes, quality of life, and healthcare utilization. The Dublin, Ireland-based company also scored expanded FDA approval recently for its Arctic Front family of cardiac cryoablation catheters for the treatment of recurrent symptomatic paroxysmal Afib (episodes that last less than seven continuous days) as an alternative to antiarrhythmic drug therapy as an initial rhythm control strategy.
And let us not forget AtriCure. The Mason, OH-based company made the long-awaited announcement in late April that FDA had approved its EPi-Sense System to treat patients with long-standing persistent afib. AtriCure's hybrid AF therapy has been touted for its superior clinical results, and for significantly improving electrophysiology lab efficiency by reducing endocardial ablation times by over 40 minutes.
Another company that has attracted attention in the EP market is Acutus Medical. In May, Acutus secured CE mark approval for for a broad suite of EP products that includes the AcQCross family of universal transseptal crossing devices, the next generation AcQGuide MAX and VUE large bore delivery sheaths, and the next generation AcQMap mapping catheter. These products are designed to streamline procedural workflow in all left heart procedures and further improve ease-of-use of Acutus' non-contact mapping technology, the company noted.
Then there's BioSig. The Santa Monica, CA-based company is hoping to make a big impact on the growing EP market with Pure EP, a computerized system intended for acquiring and processing electrocardiographic and intracardiac signals for patients undergoing electrophysiology procedures in an EP laboratory. The Pure EP System is designed to cut through the background noise of the lab and its equipment during cardiac recordings, enabling physicians to target and neutralize the areas of the heart that are causing Afib and ventricular tachycardia. More accurate targeting of the offending tissue may reduce the number of repeat catheter ablation procedures, which can last up to eight hours.
But don't mistake BioSig's system for a cardiac recorder or a mapping system.
"The Pure EP system is not a recorder and it is not a mapping system," Ken Londoner, founder and CEO of BioSig, told MD+DI back in 2018, when the company filed for FDA clearance. "It basically improves the signal fidelity of the surface electrocardiograms and the intracardiac signals to enable ablation procedures. It gives physicians that are doing the ablation procedures information based off those software signals."
Article source: MDDI Online by Amanda Pedersen