Abbott Gains EUA for $5, 15-Minute COVID-19 Antigen Test
FDA has issued an Emergency Use Authorization (EUA) for Abbott's BinaxNOW COVID-19 Ag Card for rapid detection of COVID-19 infection, the company reported in a news release. Described as being about the size of a credit card, the test is priced at $5 and can generate results in 15 minutes, Abbott reported.
The BinaxNOW COVID-19 Ag Card utilizes Abbott's lateral flow technology, and testing professionals do not need equipment for sample processing. The EUA authorizes the test to be used by healthcare professionals in point-of-care settings that are qualified to perform the test. The test can also be used by professionals in near-patient settings.
Related: How Abbott Became a Leader for COVID-19 Testing
Abbott has now launched six tests to address the coronavirus pandemic. In addition to the BinaxNOW COVID-19 Ag Card, the company launched molecular diagnostic tests for its ID Now rapid point-of-care platform, its M2000 laboratory platform, and its Alinity m molecular laboratory systems; it also launched antibody tests for its high-throughput ARCHITECT i1000SR and i2000SR and Alinity i laboratory instruments.
Along with the BinaxNOW COVID-19 Ag Card, Abbott is also debuting NAVICA, a complementary mobile app for iPhone and Android devices that either displays negative results from the test through a temporary digital health pass or messages patients with positive test results to quarantine and talk to their doctor.
Related: Abbott's COVID-19 Tests Did the Heavy Lifting in Q2
"We intentionally designed the BinaxNOW test and NAVICA app so we could offer a comprehensive testing solution to help Americans feel more confident about their health and lives," said Robert B. Ford, president and chief executive officer, Abbott, in the release. "BinaxNOW and the NAVICA app give us an affordable, easy-to-use, scalable test, and a complementary digital health tool to help us have a bit more normalcy in our daily lives."
Added Charles Chiu, M.D., Ph.D., professor of Laboratory Medicine at University of California, San Francisco, in the release: "Our nation's frontline healthcare workers and clinical laboratory personnel have been under siege since the onset of this pandemic. The availability of rapid testing for COVID-19 will help support overburdened laboratories, accelerate turnaround times, and greatly expand access to people who need it."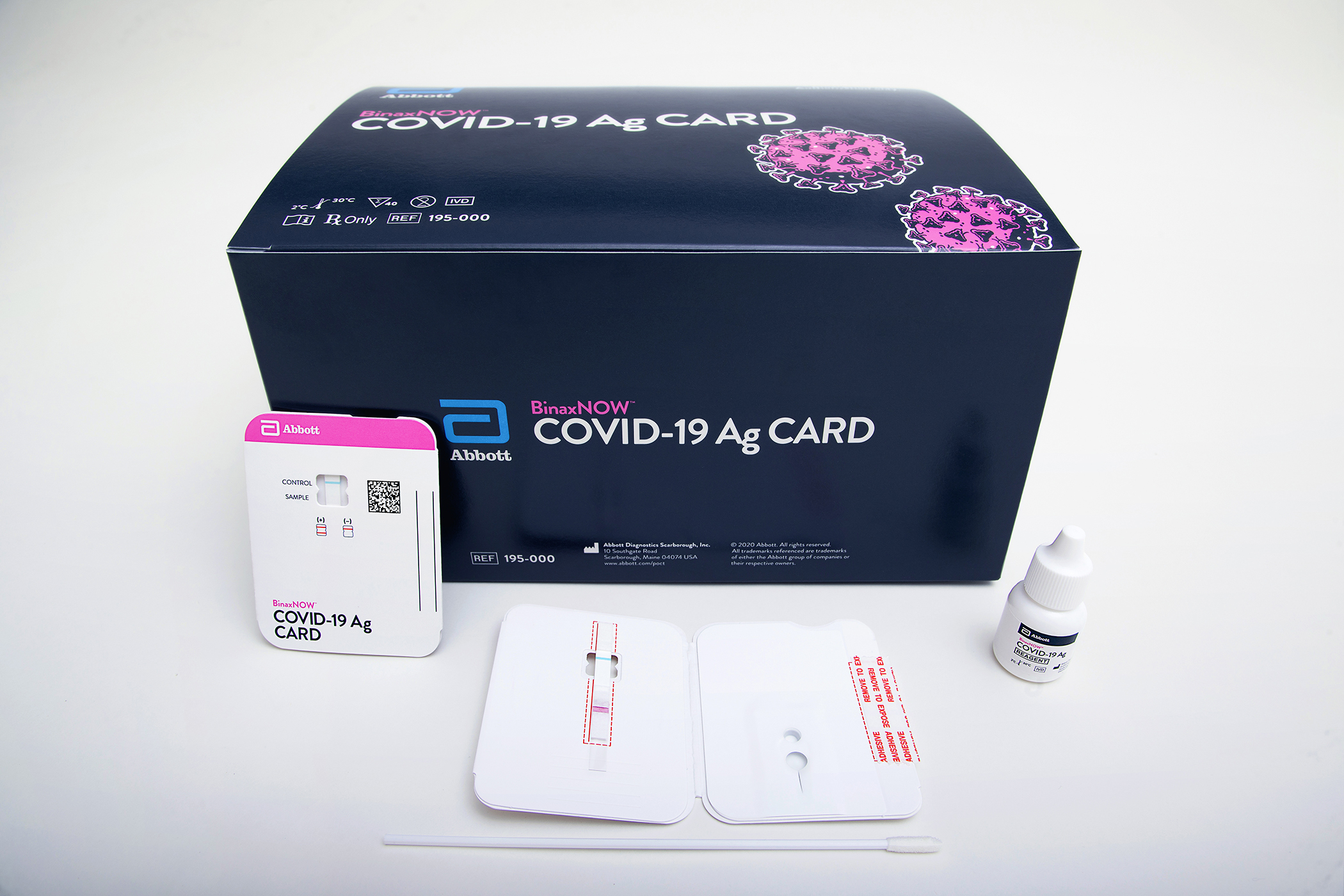 Above: The BinaxNOW COVID-19 Ag Card kit
Data from Abbott's clinical study with several leading U.S. research universities show that the BinaxNOW COVID-19 Ag Card has a sensitivity of 97.1% (positive percent agreement) and a specificity of 98.5% (negative percent agreement) in patients suspected of COVID-19 by their healthcare provider within the first seven days of symptom onset, according to the release.
Abbott plans to ship tens of millions of tests starting in September and expects to reach 50 million tests a month at the beginning of October, it reported.